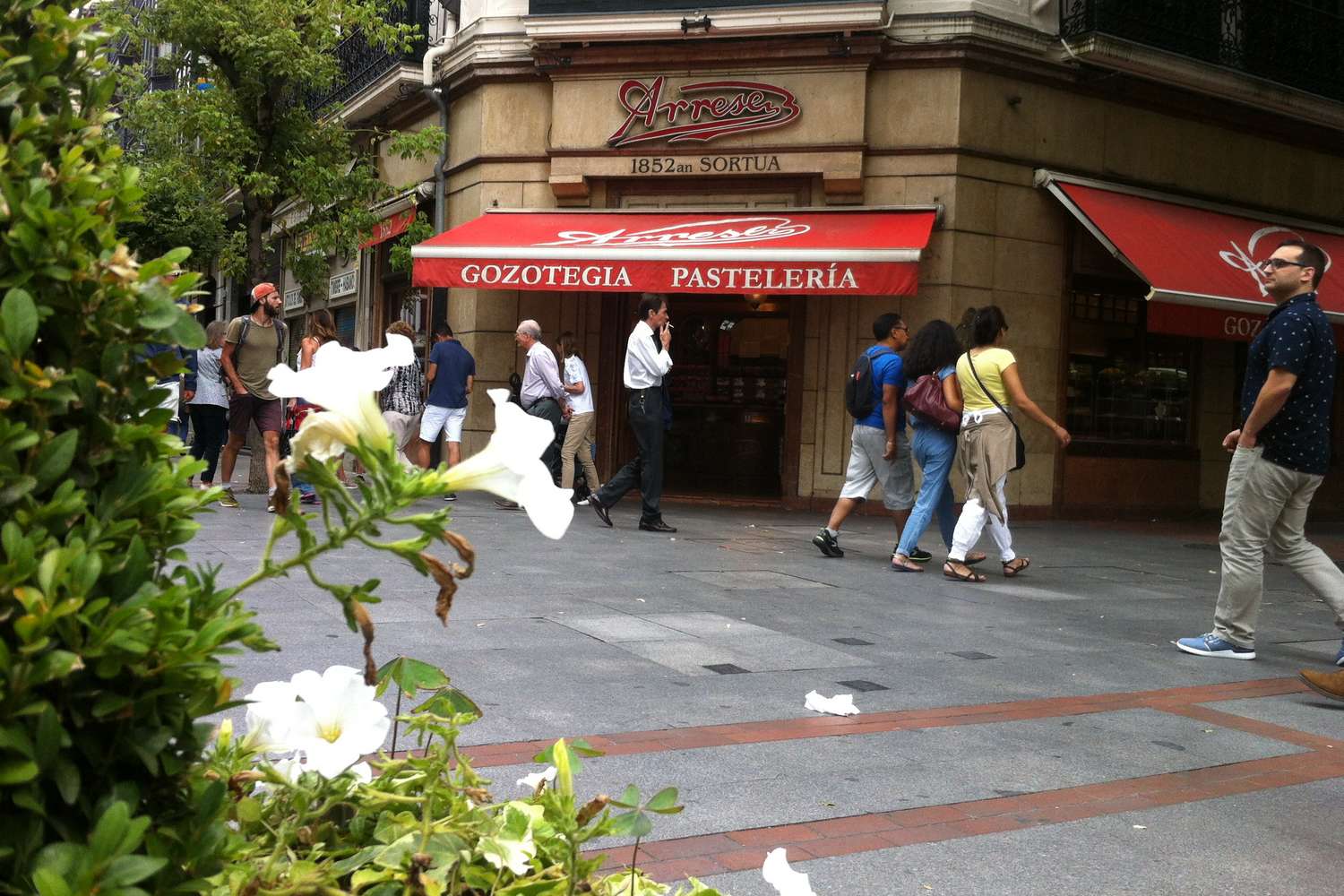 Bilbao's Gran Via cuts through the middle of the city's traditionally most prestigious postcodes, shortcutting the bend of the River Nervión for traffic and people, while offering a grand boulevard for opulent shopping and city administration. It generously proportions the flow of movement in favour of the pedestrians promenading its length, yet while the outline is reminiscent of Paris' Champs Elysees and other, great European thoroughfares, Bilbaoans appear far less likely to promenade than efficiently get to where they're going.
How many locals end up at Pastelaria Arrese is unclear, but it's certainly a tourist hub and nowhere is more reliable for a 'greatest hits' of Basque pastry, cake and confectionery making than the flagship store, which dates right back to 1852. On an August weekday, at late morning, when so many locals are out of the office and out of town, the rush around the Gran Via becomes more of a constant hum and the pace inside Pastelaria Arrese is as calmly constant as everything gliding past its windows. Yet, the windows are a scene of near decimated stocks; inside fresh products aren't unloaded from cooling trays, but served directly from them. There's no time for redressing the exterior, a sure sign that trade is quietly brisk, or that the early mornings are a scene from Apocalypse Now as Bilbaoans lose their cool over the warm Pastel de arroz.
The staff, apparently mainly women with gentle, autumnal authority seem equipped to deal with trade however it comes, welcoming customers before they can draw breath, rushing instantly to put products in bags before customer's poor Spanish pronunciation has left their lips and spiriting them to the cash desk the moment it becomes clear it's time to bring pleasantries to a close. It's a sophisticated efficiency, which perhaps only experience can offer.
Between the windows and the deceptively small interior, the choice presents a headache for baking enthusiasts wanting a taste of the classics. The Pastel de arroz, a city-wide confection, stares back at you, next to the Pastel de Vasco, or Gateau Basque, while the Carolina sits not far away to tempt you. There are biscuits everywhere, too. Other regions are well represented too, with the almond-rich Pastel de Santiago difficult to leave behind. Yet, with heavy heart, but one less likely to give up due to butter overload, the Pastel de arroz and Pastel de Vasco were the only two spirited away to be eaten, without any hint of Parisian glamour, on a bench on the Gran Via.
Pastelaria Arrese is famous for good reason.
Offered widely for breakfast, and in widely varying weights, the Pastel de arroz at Arrese has surprising similarity to the Portuguese Pasteis de Nata, at least in the pastry and caramelised top stakes, with other bakeries and cafes appearing to offer less delicacy with a shortcrust lining and all-over-brown bake. Its solid stuff, filling the flaky vessel with a sweet, vanilla rice pudding baked to a pleasingly soft consistency. You'd not need many of them to fuel a morning at work, or touring the city on foot, yet putting the Pastel de Vasco on top of it was mandatory and no great hardship.
Gateau Basque is what you'd expect a flagship bake from a functional port city (not even nearly usurped by the odd Baldosa de Bilbao) to be, a gently leavened pastry, egg-washed to a presentable sheen, hiding a crème pâtissière inside – an all-in-one dessert for dockers and sailors. Almost every country in Europe has some variation on the theme, yet this northern Spanish version has a simplicity that speaks volumes of its surroundings, a solidly pleasing pie for a self-assured city that is proudly more pigeon than peacock.
Pastelaria Arrese is famous for good reason. There are more branches throughout the city, occasionally more focused on ice cream and good espresso than cakes, or take home tins of Basque biscuits for stashing in suitcases, but the soul of Bilbao's baking is found on the quaint Gran Via.
Pastelaria Arrese
Gran Vía, 24., 48001 Bilbao, BI, Spain
www.arrese.biz