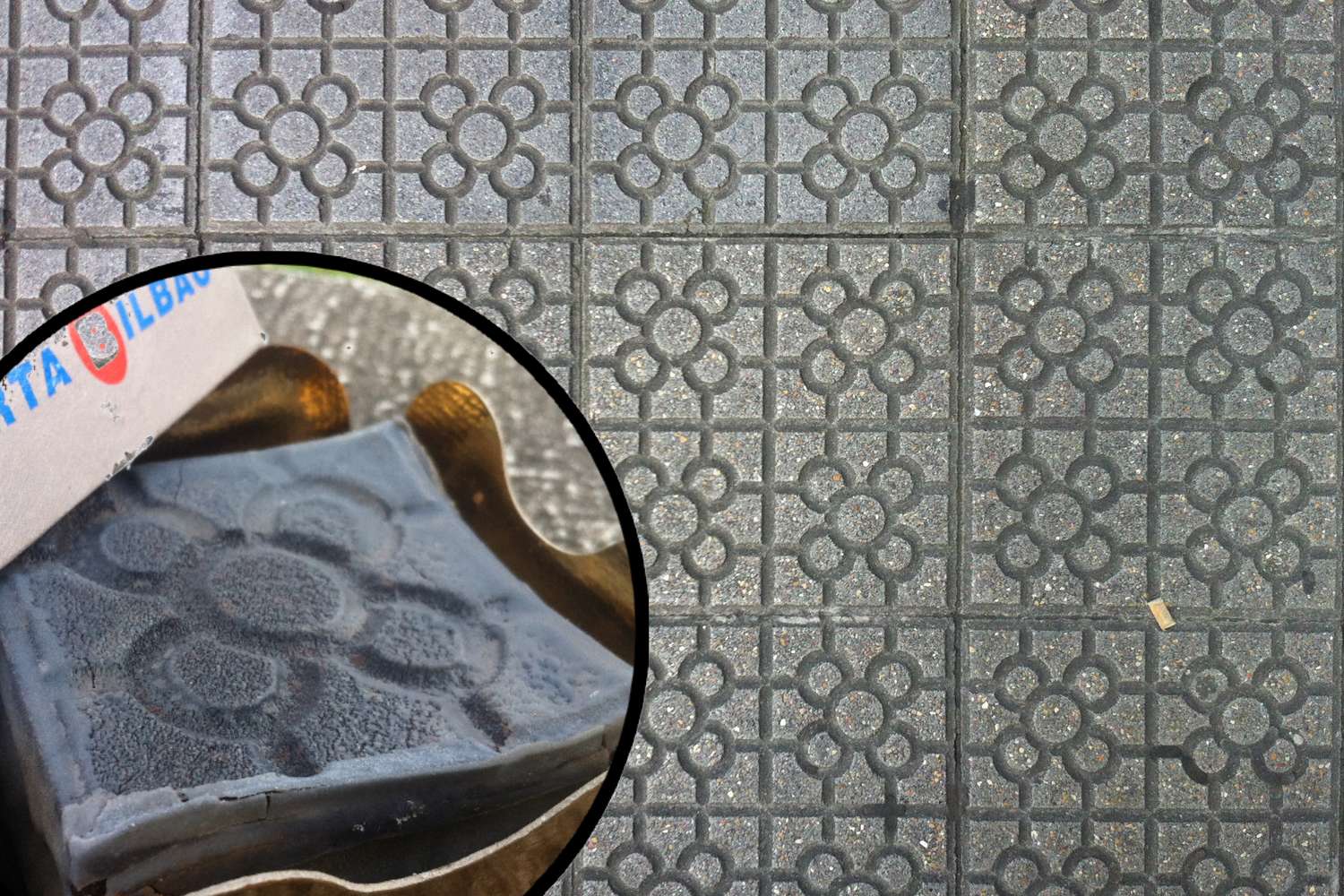 Creative bakers look for inspiration everywhere, whether in the seasons, flora and fauna or the faces of their dear children. One might even look down at the gum-littered, grimy pavement (or sidewalk, US-based friends) for their next cake idea. Well, it could be as good a place to start as any and for the esteemed cake bakers of the northern Spanish city of Bilbao, it's exactly where the creative flow came to a halt. In the search for a new cake to exemplify the proud Basque metropole and send tourists off with something most definitely unavailable elsewhere, here comes the Tarta Bilbao or the 'Baldosa de Bilbao' and it looks just like a paving stone.
Alas, not all paving stones are made equal and the Baldosa of Bilbao has come to symbolise the city, in as much as they're printed onto t-shirts, mugs and you can even grab the real thing in some souvenir shops. On every street, the repeated rosette pattern guides the way, deeply ridged to help the locals maintain grip as the rain sweeps in across the Bay of Biscay. So, what is the cake all about?
It appears that it has only emerged in the last decade, courtesy of the city's high-end Pastelaria Don Manuel and the association of pastry chefs, Bizkarra. The details are sketchy and corrections are welcome from any experts out there. With moderate fanfare an almost exact replica of a paving stone, but in pure cake form, was presented to a semi-interested Bilbaoan population. It turns out they're quite difficult to find, once you get there, fighting for space amongst other, perhaps better, baked items. Is the disinterest fair? Why don't the locals have the stomach for these paving stones? There is really only one way to find out.
Yes, it looks like a paving stone. Oh, hang on…that looks a bit…beaten up. 
The example procured for testing purposes here, or determinedly hunted down, from less prestigious Pastelaria Gernika in the residential district of Santutxu, may have seen better days. It's near certain, as a sun-beaten example was in the window one day and disappeared the next. The day cash exchanged hands for this very example, in fact. What fool pays for a cake that's sat as a beacon for stupid tourists' Euros for, perhaps, weeks? The answer lies in the question, but this was a mission where failure wasn't an option and it could, in the farthest realms of hope, have just been a coincidence that it looked dug out of the bin.
A nearly dead Tarta Bilbao with it's insides exposed and the caramel making a brave bid for freedom.
A fresh Tarta Bilbao, apparently, gains its uncanny grey, concrete like appearance from a delicate film of black and white chocolate. That's some impressive skill as the cake does look just like one of the concrete squares lining the streets. A most definitely indelicate slab of moulded dark chocolate in the sampled tarta gave the top it's admittedly very accurate rosette shape, yet any subtlety and craft had left the body of this sadly deceased gateau a long time ago. A delicately set coffee cream ganache is used in other examples. Once it was cracked into, with a little force, the layers of sponge and caramel had left each other, the light caramel edging determinedly to one side of the construction, presumably desperate to escape and avoid association with the rest of it.
View this post on Instagram
Despite its dubious age and questionable condition, it was tested to total destruction, until nothing was left of it. Its very existence was erased, which definitely counts as a service to humanity, to the people of Bilbao for getting it off their streets and out of the way of any other stupid tourists likely to have spent their money on it. Bilbao, you hide this cake for a reason and it's your right to keep it that way.
Buy a better Tarta Bilbao at Pastelaria Don Manuel
Alameda Urquijo, 39, 48010 Bilbao, Spain
www.pasteleriadonmanuel.com