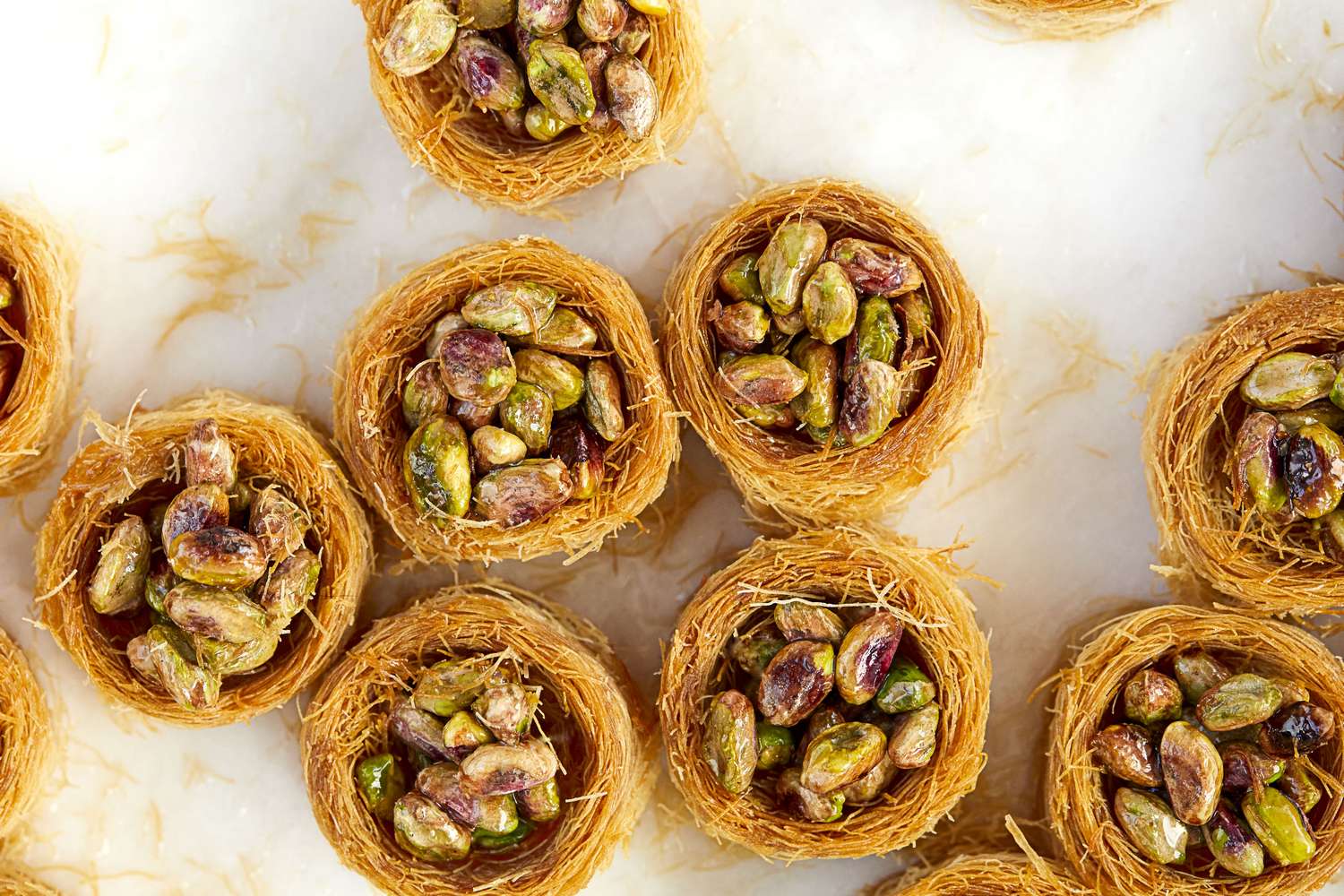 The war in Syria has led to the food of the nation being discovered in new places as refugees have been forced to settle far from home and bring cooking and baking traditions with them. Undoubtedly, it is the human cost of the conflict that remains at the forefront of the story and the Bake For Syria campaign, bake sale events and, now, a brilliant recipe book strives to raise vital aid for children's charities aiming to relieve the suffering of the youngest victims of the crisis.
Led by London-based baker, Lily Vanilli and featuring contributions by chefs and bakers including Yotam Ottolenghi and Thomasina Miers, the book's recipes are inspired by Syrian baking traditions as well as featuring family secrets. Here we publish the recipe for a Syrian Bird's Nest, written for the book by Imad Alarnab from Imad's Syrian Kitchen, which uses kanafeh, a shredded filo pastry, which offers a cosy resting place for the Middle East's rich bounty of pistachio nuts and lemons.
Bake For Syria compiled by Lily Vanilli is published by SUITCASE Media International and available now at RRP £25.00. Visit https://cookforsyria.com/bake-for-syria/ for more information.
Details
Ingredients
300g shop bought kanafeh
Approx. 250g of melted butter
100g whole, shelled pistachio nuts
235ml cold water
200g sugar
2 tbps lemon juice
Preparation
1

Once opened from its packaging cover the kanafeh with a damp cloth while you work so that it does not dry out. You can find kanafeh at Middle Eastern and Turkish shops and super markets.

2

To make the Qater syrup, combine the sugar and water in a pan and swirl a little to combine. Place it over a medium heat to melt sugar and boil for a minute, then add the lemon, stir and heat for another minute.

3

Take a piece of kanafeh and wrap it around your thumb or two fingers to form a nest shape, and transfer it to a lined baking sheet. Repeat the process for the rest of the kanafeh and press the pistachios into the centre of your kanafeh nests.

4

Cover the oven tray with baking paper, and then cover with another oven tray. Place a 1kg weight over it then leave at room temperature for 2 hours, remove the paper and leave it for another hour.

5

Pour the butter in your oven tray and put the tray in an oven preheated to 22°C for 20-25 mins, turning from time to time.

6

Drizzle with the warm syrup and serve.