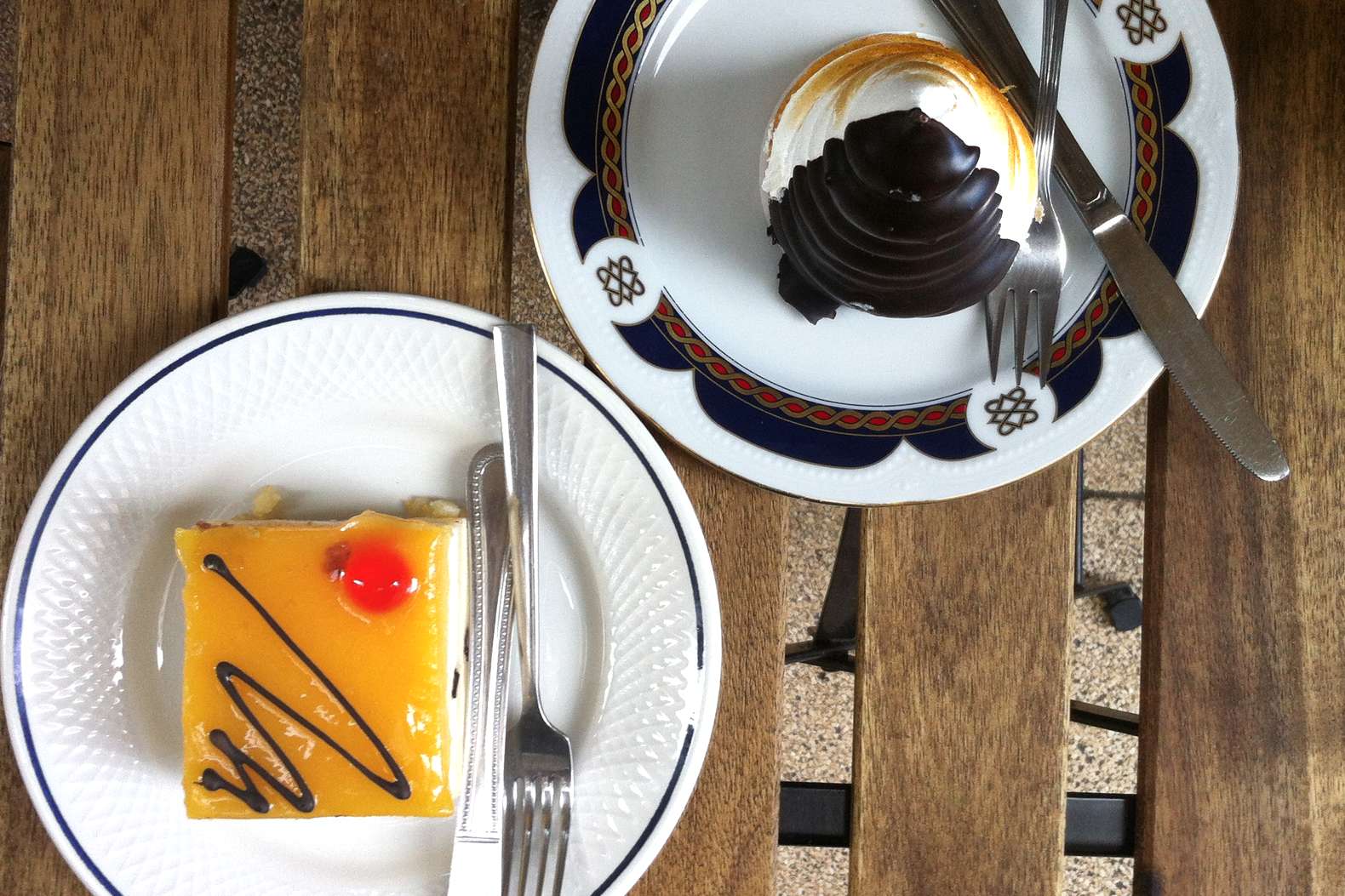 Crafting cake just like your grandmother used to make. Can there be any greater an ambition for baker, even when such perfection seems forever out of reach? Delving into childhood memories, decades of training and the baking heritage of northern Spain, Jorge Arriola guides Espina del Angel (translation: Taste of the Angel) in the coastal town of Castro Urdiales to heights that deny the suggestion that recreating granny's cakes is a daunting task.
It's perhaps misleading to equate Espina del Angel's products to family baking as what rests in the refrigerated cabinet, in the shop window and on the bread shelf of the café resembles nothing like what emerges from domestic ovens, unless that oven is owned by a pâtissière on a day off. Nestled just one street back from the bustling promenade of the effortlessly charming fishing town-turned low-key tourist trap, it's Castro Urdiales' destination for desserts, sweet and savoury pastries and bread of diversity and care unseen elsewhere in town.
Pieces of vintage decoration are set alongside IKEA mainstays in a welcoming café space where pink evidently won out when Jorge and his partner Solange had the meeting about colour schemes. Yet, it is the product that still catches the eye.
View this post on Instagram
Ubiquitous in Spain, the Tarta San Marcos is to this country what Torta della Nonna is to Italy or the Black Forest Gateau to Germany. You can try it at the end of many restaurant menus, just as well as in high end bakeries, yet the presentation at Espina del Angel is typical of their special-occasion style. A square of the cake, topped by the trademark, wobbly egg-yolk cream and distinct sponge and vanilla cream layers is a treat for the eyes, yet when the fork digs in there's the immediate sense that the necessary soaking in sugar syrup has been a roaring success. Still firm, yet drenched, the syrupy Genovese sponge confirms its superiority in the mouth.
Espina del Angel they can't ignore the Carolina, the towering spike of meringue, lightly brushed with chocolate and a decorative spray of egg yolk.
Perhaps unthinkable and unforgivable in this furthest edge of Cantabria to suggest to locals, yet its proximity to Bilbao – you could probably throw a ball into the Basque country from the town's ring road – means that so much is shared between the two regions.
At Espina del Angel they can't ignore the Carolina, the towering spike of meringue, lightly brushed with chocolate and a decorative spray of egg yolk and a mainstay of Bilbaoan pastelaria. In bigger, factory-production pastelaria they're perfect, but here they're comfortingly not. Evidently hand piped, hand decorated and sat slightly askew its butter biscuit disc base (as opposed to a traditional tart case), Espina del Angel's Carolina is a chunk of perfectly made, delicately sweet meringue.
Other Basque classics are out in force, including the Pastel de arroz and Tarta de Manzana, both apparently acceptable as breakfast options and who is to argue with that? Whether just passing through or staying for a few days, there are far worse places than Espina del Angel to develop bad habits like eating fruit tarts for the first meal of the day.
Espina del Angel
Calle La Mar 2, Castro Urdiales, Spain
www.pasteleriaespigadelangel.es