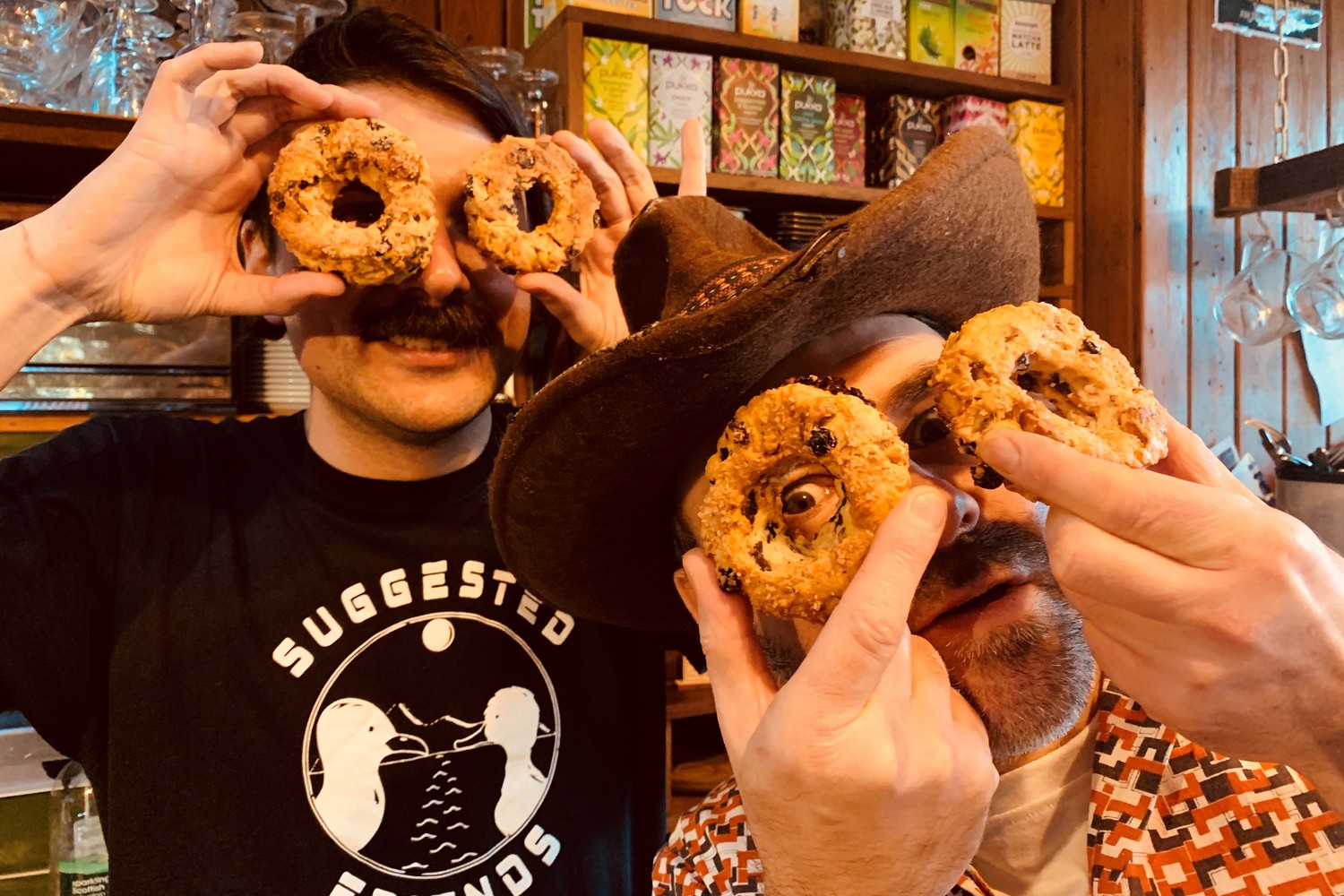 Inside the kitchen of Café 9, a café/bar/music venue on the outskirts of Sheffield, South Yorkshire, there is crazy, dough-based alchemy at play. By happy accident, two curious collaborators have given birth to 'The Sconut', a name which goes some, if not the whole way to explaining exactly what it is. Yes, international food critics, writers and tourists are surely only seconds away from catching the smell of – the scone/doughnut hybrid!
Scones are, if underrated, the thing of idyllic cream teas. A little old fashioned, but an undoubted classic. A holiday on the British seaside wouldn't be complete without fish and chips, washed down with a scone, clotted cream and a blob of jam. Put a pot of tea on top of it and you're ready for anything. Based on a stiff, buttery dough, leavened with baking powder, the scone is a stodgier alternative to cake or a yeasted bun. Imagine what would happen if you threw it in a deep fat fryer?
"Myself and chef, Paul Infanti invented the Sconut earlier this year," explains Mario D'Agostino from the café. "We were playing around with a set of scone cutters which included one very small and one very large cutter, which gave us the idea of making a scone with a hole cut out of the centre – the name Sconut came from this, as a joke.
"We both laughed about it for some time, and then got thinking: What would that hole do to a scone? What would a scone-doughnut hybrid be like? Why is there a hole in a doughnut to start with? We just had to make one to satisfy our curiosity! The result was a sweeter scone with a greater surface area – less doughy, more crisp and robust."
Laugh? Evidently, it's no joke, with the birth of the Sconut causing some purists to turn raspberry-jam red with rage. Mario continues: "On Twitter, someone declared it 'against nature', and another person said they couldn't decide whether it was genius or madness, a distinction we don't much care for here at Café 9."
There are some things that maybe you shouldn't mess with, but something as embedded in the fabric of British baking as the scone can surely hold its place in the nation's hearts with some confidence. A sideline, a casual rebrand and a facelift would do it no harm. The question on everyone's lips must surely be: how do you make it?
"Our recipe involves adding our own doughnut croutons to our existing scone recipe," says Mario. "Alongside earl grey-hydrated sultanas. We're still very much in the experimental stage of making Sconuts. We're aiming to try out a few different approaches from the use of doughnut croutons in order to get the best blend between the flavours of both things. We're thinking different essences, strips and icings – and are going to make sure that from now on Sconuts are also vegan!"
From clowning around with cutters to creating a whole line of possibilities, a lesson to everyone that losing the art of play means missing moments of genius. With the Cronut setting the world alight and the Cruffin living a long life on bakery counters the world over, perhaps the Sconut's birth in an unassuming Sheffield neighbourhood will change the cream tea forever.
Cafe #9
9 Nether Edge Rd, Sheffield S7 1RU
www.cafe9sheffield.co.uk