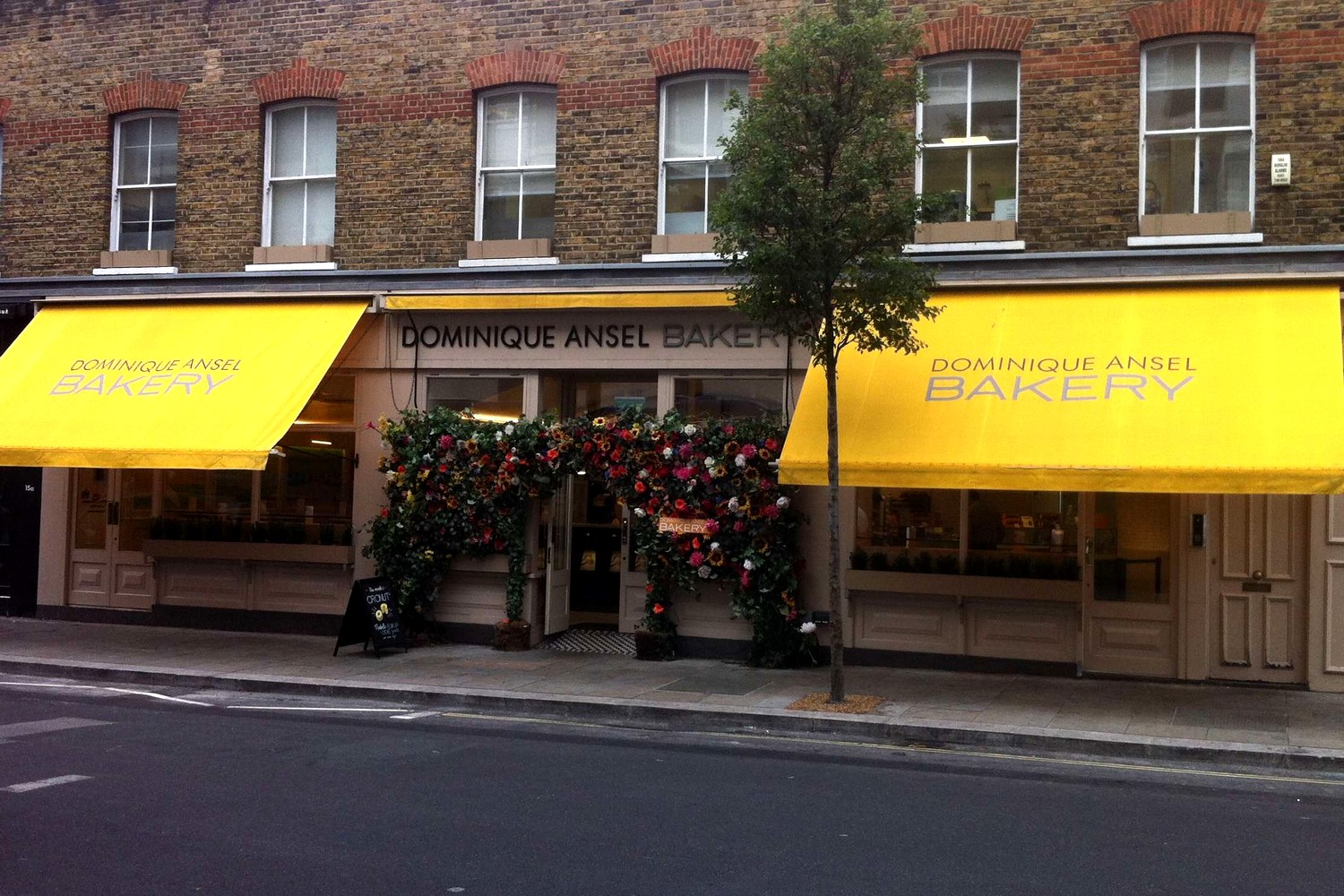 Transport hubs, whether rail stations, airports or motorway service stations, seep a sense of transience into their surroundings, a near-fact to which anyone who has sat in a coach station café or rail platform bar can attest. They are nobody's home, just a passing-through-place and, as such, nobody really cares how they find them or how they leave them behind. Victoria Coach Station in London is undoubtedly such a place and it's within this swirl of urgent traffic and brusque, stressed strangers that the UK bakery home of superstar pastry wizard, Dominique Ansel resides.
In 2016 the inventor of the hysterically-greeted Cronut crossed the Atlantic and brought his French flair and American influences to Britain, bringing one of the world's pastry heavyweights back to Europe and a heaving menu of curious creations with him. The Chocolate Chip Cookie Shot, a cup of baked cookie dough into which vanilla milk is poured, sounds particularly gratifying from a menu also laden with stone-cold French classics, from made-to-order Madeleines to Canele Bordeaux and éclairs worthy of gallery exhibition. The Cronut is, as promised, right there too.
Nothing inside Ansel's counter-service shop is ugly, providing a civilised pit-stop for travellers.
Nothing inside Ansel's counter-service shop is ugly, providing a civilised pit-stop for travellers caught in the shadow of Victoria Coach Station, a place where the odour of difficult farewells and stolen luggage drifts alongside the smell of the expertly-made pastries. A wall of theme park restaurant-style printed wall menus nod to busy times, where lunchtime workers or weekend tourists might need to make quick decisions, but on a quiet Thursday morning the attention of the happy, smiling staff gives no trace of a burning, unit-shifting efficiency.
Making a decision at Dominique Ansel is difficult, but for a simple breakfast and a stern test of the bakery's abilities, the Pain au Chocolat and small latte makes as much sense to a hungry traveller as one of a mountain of upended Kouign-amann or pucks of Bostock. The Pain au Chocolat, with its striped coat is on the money, being light, full of cavernous chambers of air and the butter hitting the palate as flavour rather than lubricant, while the chocolate interior remains putty soft. Nobody can complain about the coffee either.
It's at times like this that you just go with the sense of occasion and to hell with the cost, but at £4.45 for the pastry, a visit to Ansel's place is probably one for pay days, if not birthdays. Understanding value is certainly a sign of wisdom, as opposed to only hearing the price, but with the beautiful cakes just shy of £8 a go to eat-in, we're not even in London or New York here, but have set foot in Hollywood.
With outdoor space, a small 'yard' that's beautifully appointed with a luscious living, floral wall and light bouncing of every surface of the light interior, luminescence glances across the lounging choice of bar stools at the window or a seat at a cozy table. It's a world away from the scene of sad, slowly slithering National Express coaches crawling by and, perhaps most cruelly, each depriving their passengers of the relief of an opportunity to stop here.
Dominique Ansel London
17-21 Elizabeth Street, Belgravia/Victoria, London, SW1W 9RP
dominiqueansellondon.com