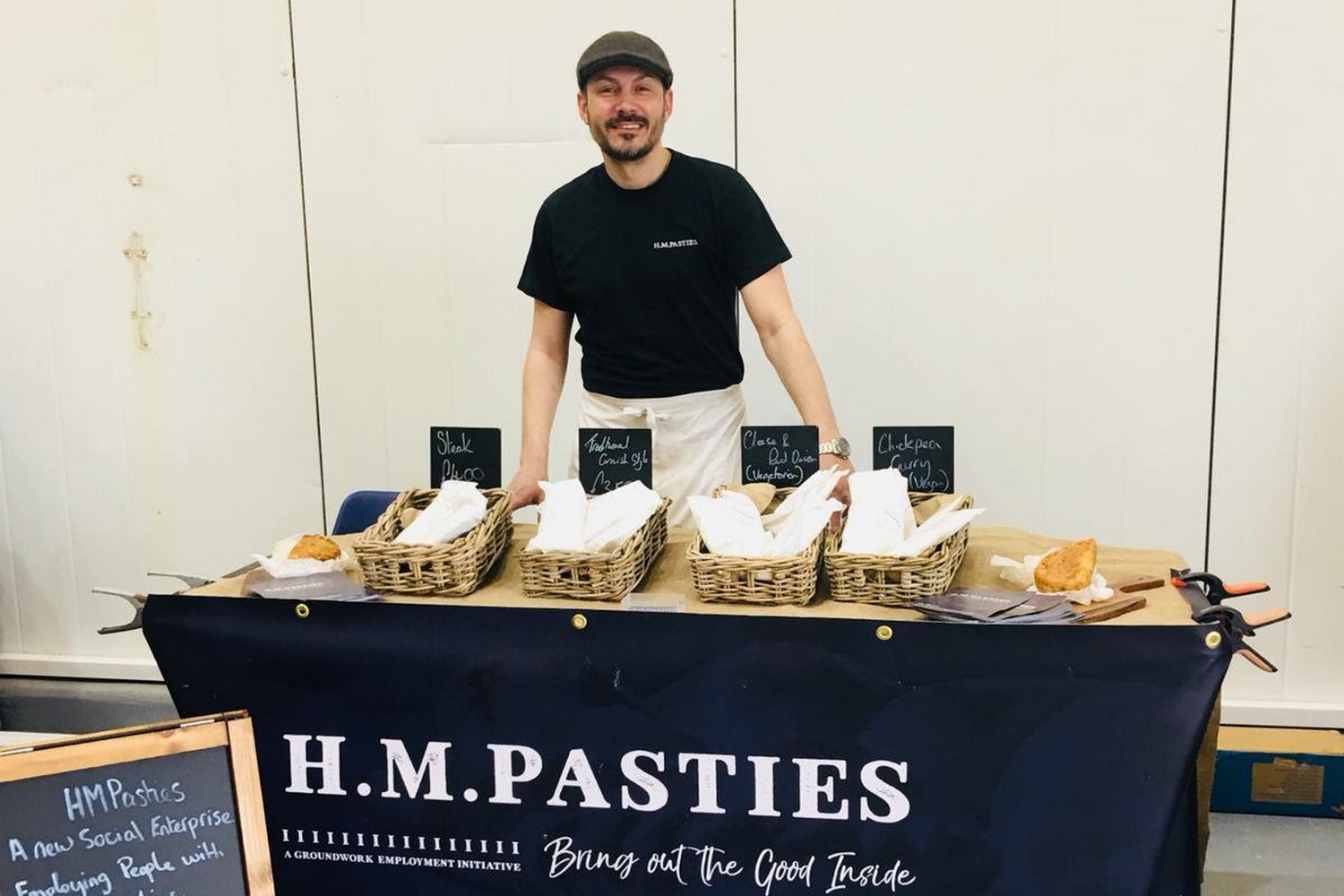 Lee Wakeham knows what it's like to find yourself in prison having made poor, life-altering decisions as a teenager, so understands implicitly how people are swept into criminal activity.
A myriad of reasons; a lack of skills and education, absent self-worth, dysfunctional or lost family and so many other factors can easily derail people, young or old. He also knows how to make a great pasty and is using his experience of prison, rehabilitation and baking to bring hope to former prisoners.
"Employment changes people as individuals," says Lee, encapsulating the reason why his exciting new start-up, HM Pasties, based in Manchester, can make all the difference. It's a pasty company, with pasties made by and under Lee's supervision with a growing workforce of ex-prisoners, making and selling products baked to traditional and creative, new recipes. Trading began in January 2018, scaling up from a 6 month experimental period in borrowed kitchens to a functioning, funded programme of baking and supplying pasties directly to the public via markets and commercial customers including FC United of Manchester. HM Pasties is now looking forward to opening its first, permanent shop.
Lee's time in prison, at 17, may feel a lifetime ago, but the experience is far from forgotten. Nor is the experience of walking into Ivor Dewdney pasties in Plymouth as a child and tasting what he maintains are the best money can buy. Finding himself in the North West as time went by, there was something missing from his life.
"I came to Manchester and you couldn't get a decent pasty anywhere, so I just started making my own. That was about 20 years ago," Lee recalls. "Now and then I'd make them for family and friends, so had plenty of practice by the time I was asked to make a bigger batch for a street party for the Queen's Jubilee in 2002. It went really well, a total sell out. I wasn't sure whether I could make a bigger stock than that, but in 2017 I made 200 for the 40th birthday party of Manchester recovery and rehabilitation charity, Back on Track, and found out I could."
A discerning eye for the perfect pasty, top-crimped as Devon tradition dictates, is one aspect of HM Pasties' early success, as is Lee's personal drive to see through his mission. A member of Groundwork staff, the same environmental and skills development charity that supports HM Pasties with the necessary start-up funding, Lee's professional life is dedicated to bringing out the best in people. In a short space of time, HM Pasties has shown that the holistic value of baking as a profession applies to his pasty makers, returning to life outside prison and in need of support.
I had originally thought of us as mentors to people, but I hadn't thought of the life skills that people would get from HM Pasties.
"I had originally thought of us as mentors to people, but I hadn't thought of the life skills that people would get from HM Pasties," says Lee. "Joining us and projects like ours lets people live healthier lifestyles, by coming into contact with food preparation there are less takeaways and more enthusiasm for cooking. Since setting up we've also seen one person go into work in the food industry, going on to work in a prep kitchen having got their Level 2 Food Hygiene Certificate with us."
In September 2018, HM Pasties take on three members of staff to ensure the next phase, a shop just outside Manchester city centre, gets off to a flying start to echo the markets and delivery service that has already proved so popular. Side-projects, devising menus for outlets at MediaCityUK, home to the BBC in Salford, prove that not only is the HM Pasties story of social change through the business of baking a magnetic one, but that the product is unquestionably good too.
The classic Cornish-style, steak pasty and a cheese and onion pasty, each filled with high quality and locally-sourced ingredients, please traditionalists, yet recipes such as veggie samosa, jerk chicken and the all-day breakfast pasty prove, beyond doubt, the brilliant things that are possible with a pasty.
Visit HM Pasties website at hmpasties.com