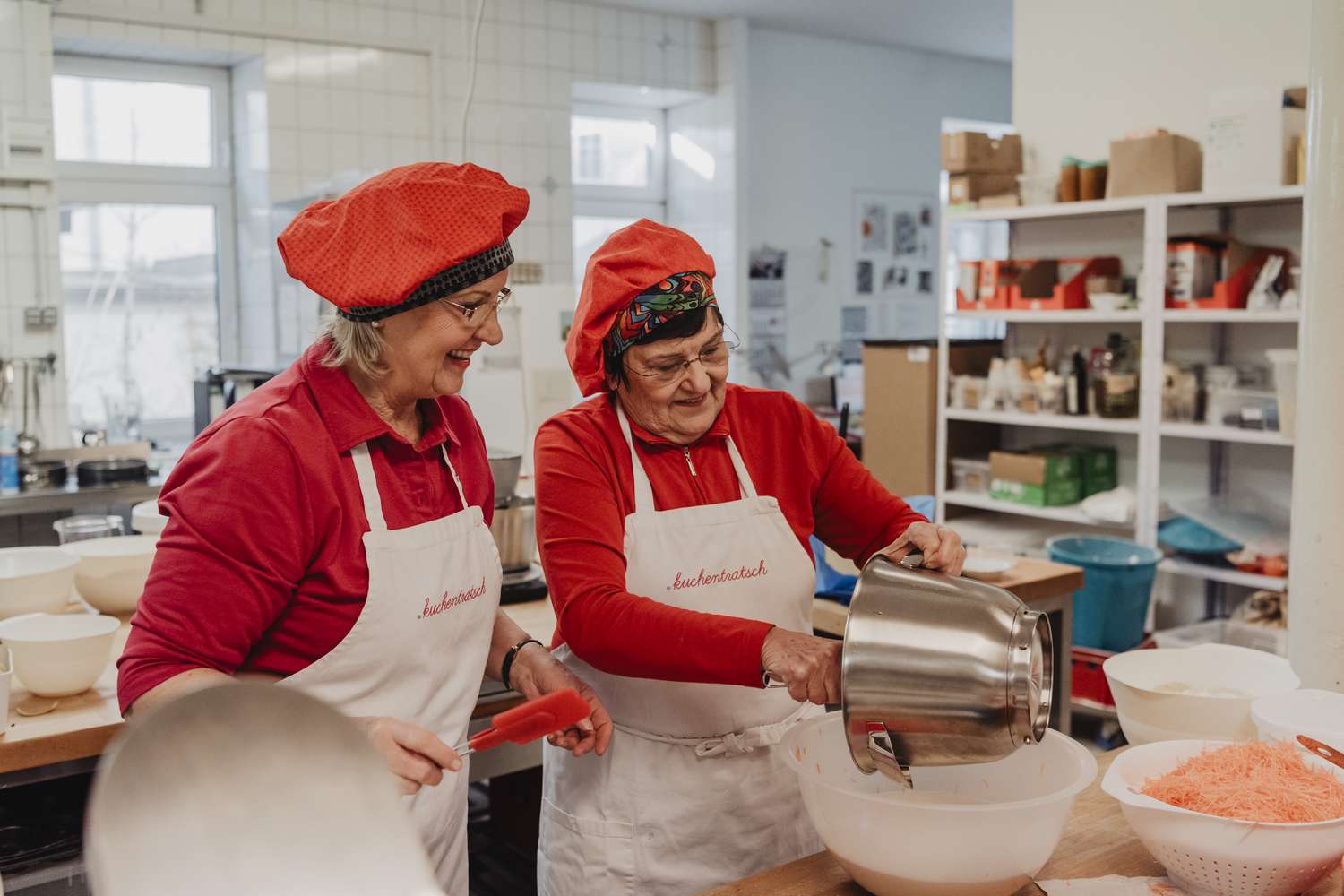 At 80 years old, Oma Irngard has become a best-selling cake baker. Not only has she found her carrot cake recipe attracting repeat orders, but she has baked it so often it's child's play for her to get up to 12, perfect examples out of the oven during each four hour shift. Both the determined Oma Irngard and her famous 'Karottenkuchen' can be found in front of the ovens at Kuchentratsch, Munich's pioneering 'granny bakery'.
In truth, the bakery is a granddad bakery too, with Kuchentratsch being a bakery built around its pensioner employees from in and around the Bavarian city. Each is employed as a baker or driver, teaming up to fulfil orders for both on-site collection as well as to-your-door delivery, with a range of cakes available for individual customers in need of a treat, private celebrations and for business events.
Kuchentratsch opened its doors for the first time in 2015 with a simple, brilliant idea based on a longing for the taste of home and overdue recognition that, when it comes to cake, experience counts for everything. Now, the bakery employs 39 baking grandmas and one baking grandpa. Add to that the three delivery grandpas and one delivery grandma, it's an army of experience and baking passion.
Kuchentratsch's Theresa Offenbeck explains the origins of the concept, saying: "It was started by Katharina Mayer who, when she was studying abroad, found that she really missed her granny's cakes. She couldn't find cakes anywhere that tasted as good as hers. She was studying business administration at the time and was interested in the question of how you could change society through different business models. It was how she reached the idea of starting Kuchentratsch, a new model whereby older bakers could earn extra money in retirement and supply people with their delicious cakes."
The bakery's mission statement is simply 'to make life worth living' and, at both ends of the baking chain, the concept appears to be meeting its aims. Who wouldn't want to take a slice of Oma Kate's fruity Apricot Crumble Cake (Aprikose-Streusel-Kuchen) or Opa Günter's Quark-based baked cheesecake, while knowing that on the other side of the bakery door there is a proud, senior baker turning their experience into extra income. It's key to Offenbeck, Mayer and their colleagues that the element of earning, and earning a fair wage, while the bakers are baking remains a major part of the story they tell.
"The idea was to really impact society and suggest a model for other companies to follow, setting the example that you can be profitable as well as being social."
She continues: "The idea was to really impact society and suggest a model for other companies to follow, setting the example that you can be profitable as well as being social. Kuchentratsch set out to be as autonomous as possible and not become dependent on sponsors. Our aim isn't to make our seniors be seen as pitiful or weak and that they have to be helped by charity, it's about the self-esteem of our bakers at the same time as offering high value products."
Within Munich, customers have a world of cake to choose from, ranging from that popular carrot cake to Oma Inge's Russian Chocolate Cheesecake (Russischer Zupfkuchen) and many more, yet for the rest of Germany the range is slimmed to a core of celebration cakes and those less likely to squidge in the post, like Oma Helga's Mini Apfel-Cranberry-Kuchen. At up to 30 Euros per cake, measuring at 16cm (not mentioning the 70 Euro, bespoke number cake for birthdays or a 560 Euro wedding buffet), with the average more likely to settle at around 18 Euros, some might question the cost.
"The price of our cakes mirrors the fact each is baked by hand with a lot of love for the detail," explains Offenbeck without hesitation. "Also, the fact that our bakers can take their time with each cake, this isn't about efficiency. They can have fun while they work."
The environment and terms of their employment with Kuchentratsch are conversant with the opportunity for a restful, yet purposeful retirement. It's a culture that has kept some bakers active for the duration of the four year journey so far, with Oma Renate, Oma Regina and Oma Inge the three longest serving and ever-present bakers since the first cake was baked and delivered. With many people in Germany and around the world looking at Kuchentratsch as a workable, commercially viable business model, now could be the time for Kuchentratsch itself to consider expansion.
"We get asked this question a lot," says Offenbeck when such an escalation is mentioned. "At the moment we are focusing on building this up in Munich. We need a bigger bakery as we're running out of space. We are looking at growing the side of the business that bakes for businesses, sending cakes via post and developing a line of cake mixes. We could imagine going to other cities in the future, but for now we've plenty of work to do here."
Every good bakery has a heart and nothing baked well comes without human intuition and focused attention, but it seems that Kuchentratsch is achieving what often seems beyond reach. Making money, having and providing purpose, contributing to fundamentally happier lives and doing it all on a base layer of flour, butter, eggs and sugar. Gut gemacht!
Images courtesy of Kuchentratsch and Mona und Rainer Fotografie