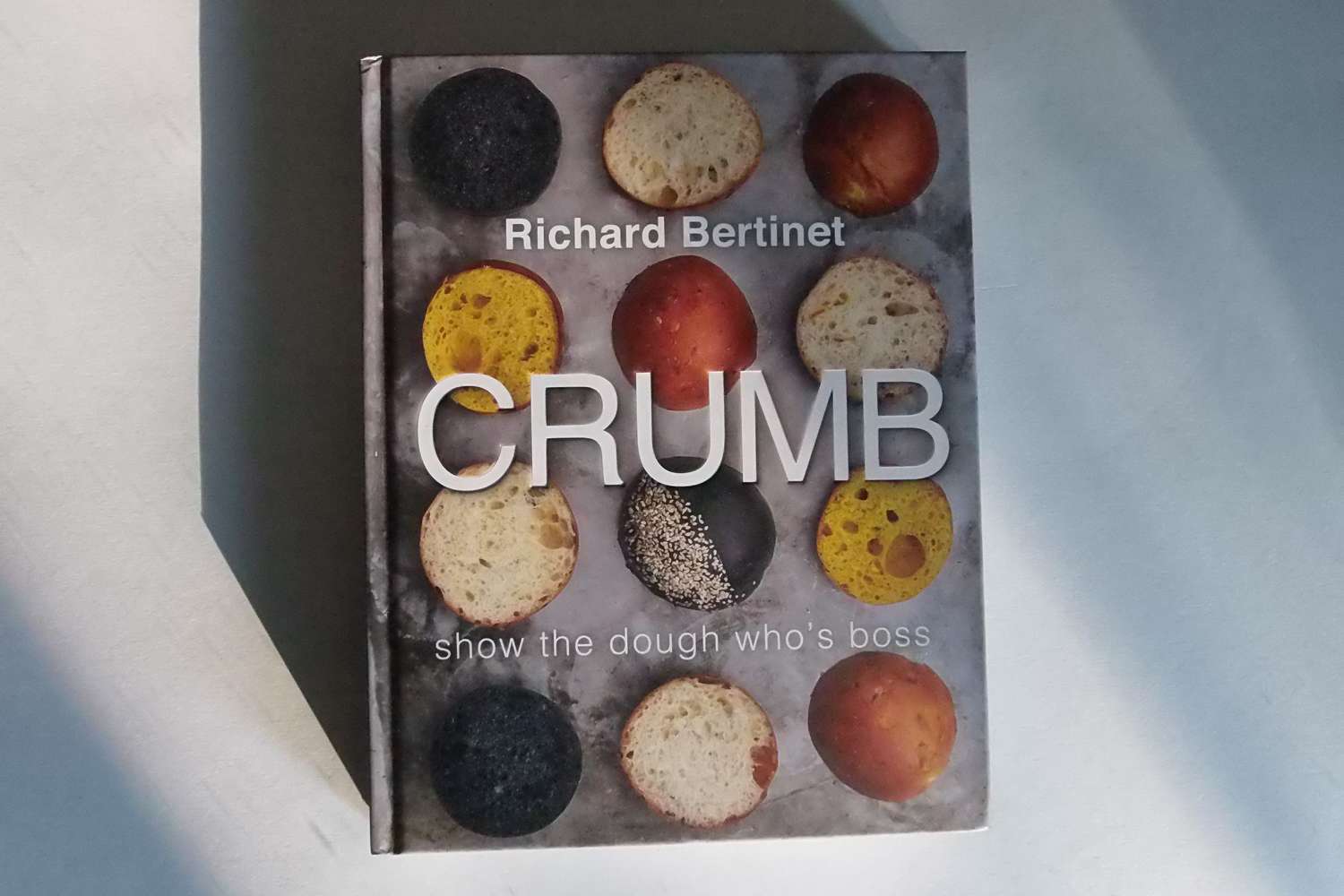 In a world where more is demanded all the time, it's worth remembering that to do a few things very well is of great virtue. Richard Bertinet clearly identifies with such an approach to life and baking if the pages of his latest book, CRUMB, are anything to go by. The French, anglicised baker is renowned for the influential baking books DOUGH (2005) and CRUST (2007) and preeminent support for the Real Bread movement. He's a baker's baker, passing on his enthusiasm and knowledge to the widest possible audience for all things baked, leavened or not.
After publishing five books, including the aforementioned baking bibles and others devoted to patisserie, pastry and cooking, where do you start your sixth? Bertinet hasn't made any assumptions on skill, experience or interest level and gone back to basics, from the essential tools (a good pair of hands is a bonus) to the very nature of dough, leavens, ferments and flours. Across 224 pages there are 51 recipes, so it's by no means a crowded book. It feels leisurely and, where needed, detailed in the most patient and accessible ways possible. Where other books leave home bakers breathless that they might not live long enough bring every strain of sourdough culture to life, bake every biscuit and turn out every loaf, Bertinet knows how to set the pace.
A weighty hardback with muted, colour photography, many of the classics stand out, including those of a native French kitchen, ranging from a rustic baguette to a butter-rich Brioche and his nut-brown Gotchial in the extensive 'Enriched' section to a Croque Monsieur in the 'Cooking With Bread' closing chapter. Under the subtitle: Show The Dough Who's Boss, the author is clear that even the stickiest dough can be tamed and his own 'slap and fold' technique for mimicking the bakery mixer by hand is demonstrated, step-by-step.
Experience breeds confidence and Bertinet steps away from puritanical pronouncements on authenticity and method to say that a mixer with a dough hook is perfectly acceptable once the reader has got to know their dough and, shock horror – sourdough isn't everything. For anyone who has grappled with a stubborn, naturally-fermented croissant, Bertinet's more rounded view of the world is welcome, as is his suggestion to ease into sourdough baking with a progressive yeast-plus-ferment method of slowly reducing commercial yeast ratios in favour of the bubbling culture.
Bakers will find a Chocolate, Orange and Pistachio loaf, Salted Caramel Brioches, Apple and Cider Rolls, Rye Sourdough, Challah and the Southern French chickpea pancake, Socca.
Anyone who has encountered Bertinet on Instagram will know that lunch at his baking school is a hearty affair and the Brie In Brioche stands out, happily available in the book to try at home. In the neighbouring pages bakers will find a Chocolate, Orange and Pistachio loaf, Salted Caramel Brioches, Apple and Cider Rolls, Rye Sourdough, Challah and the Southern French chickpea pancake, Socca. It's a broad church, but in bite size pieces.
Shortly after publication Bertinet admitted the book had a few mistakes, so checking out the Bertinet Bakery website for corrections is highly recommended before setting out to ensure the instructions in front of you are up to date. With no such shortfalls in salt, eggs or enthusiasm, here are Dough Culture's test bakes from Richard Bertinet: CRUMB.
Kouign-amann
L-R: Look at that caramel working it's way out of the plate-sized tart, compared with the sturdy example from the book.
Taking this one out of the oven immediately brings about a guilty schoolboy/girl feeling. There has to be someone nearby to tell you that what you're doing is wrong and, surely, you can't get away with it. Just days after trying a superb, professionally made miniature Kouign-amann from a London bakery, the emergence of this caramel coated monster from the oven wasn't expected, despite the clear image to show it's exactly what would happen. For a newcomer, the failsafe illustrated instructions are simple, but there's a sense of mystery about where the road is headed. The tart goes in, layers of butter and sugar in the folds of a fridge-cooled, enriched dough unceremoniously wedged into a springform tin and scored to deny it's urge to rise. It emerges well-baked after 40 minutes, cools for 10 minutes and is then turned upside down, releasing a seeping cascade of hot caramel from the base – now the top. Shards of caramel burst as it is sliced, the soft, decadent layers of dough sitting underneath ready to soak up coffee or, as Bertinet recommends, a cold glass of cider. This Kouign-amann (translation: butter cake) is decadence in a cloak of modesty.
Basic Dough Baguette
L-R: Simple and effective, Bertinet's basic dough recipe and preparation brings baguettes out of a home oven that aren't far off those from a bakery.
CRUMB opens with Bertinet's basic dough, a precursor to the fun of his own mixing and aerating the dough by hand method. He recommends working with larger volumes of dough, so 1kg of white flour goes in along with salt, fresh yeast and 720g of water. The intended joy of whacking a ball of sticky dough on the counter top to form a dough that feels alive proved somewhat elusive, owing to a distinctly thirst variety of flour. 720g wasn't enough and it was noticed too late to hydrate the dough any further and really get into battle with a wet, unyielding dough. In the proving and baking, however, the baguettes tore themselves apart in the oven in all the right places and, as is Bertinet's suggestion, the overnight rest in the fridge encouraged the desired, open crumb and depth of flavour to develop.
Gotchial
L-R: It turned out well in the end. The stubbornly non-rising, inexplicably exploding Gotchial and the showroom model from Bertinet's oven. 
Occasionally a dough will stare at a baker for an afternoon, completely hiding its potential. Bertinet's Gotchial, an enriched bread from his native Morbihan, Brittany is one that appears to have its own distinctive quirks. Adding Crème Fraiche offers a lighter and longer-lasting crumb, starting life in this recipe heated and mixed with flour to form a paste. Certainly unusual, the recipe is one of those that the author made an error with and too few eggs were included before publication, with the suggested three actually being five. What happened after mixing was nothing. It sat there. The rise didn't obviously happen, unless the bowl was expanding too. Regardless, the bake went on and after dividing into two boules, the second 'rise' began. It lasted longer than Bertinet suggested, in case it was an issue of a cold kitchen. With more hope than expectation, the two loaves were scored round the middle, egg-washed as per instruction and thrown in to the oven at 180°C where they duly exploded on the score lines and went the suggested, chestnut brown. A bizarre experience indeed, but a recipe well worth trying. A close cousin, if not differently shaped twin of the Alsatian Kougelhopf, slice it and cover it in butter and jam.
Russian Plait (Babka)
L-R: The egg wash a little more caramelised and the chocolate filling a little thinner, but the test version on the left not a bad approximation of Bertinet's Babka on the right.
Occasionally you realise that the counters of Instagram-baiting bakeries are full of some of the same recipes because they're simple, of humble backgrounds and limited ingredients and, therefore, both taste great and likely have a very healthy profit margin. A Babka, or Russian Plait, comes out of the oven in duplicate following Bertinet's recipe, two rich, chocolate-filled loaves for the paltry investment of 500g of flour, 5 eggs, half a litre of milk, honey, butter, oil and very few other, additional ingredients including the modest 100g of chocolate chips. For novice plait knotters, that's the bit that might get messy, but Bertinet's Babka is a pleasure to make, even better to eat and a bargain too. Making the Chocolate Crème Pâtissière first, allowing it to cool, then using a stand mixer to bring together a supple, easy-to-manage and responsive yeasted dough is no insurmountable challenge and makes the author's confidence contagious. Rolling the dough, spreading the filling, forming tight rolls and splitting them with a sharp knife is only slightly fiddly, but it's hard to imagine anyone losing the fight. Once plaited, baked, cooled and set alongside a coffee or a hot chocolate the Babka needs policing by a responsible adult, otherwise it just disappears too quickly. The raisins in the recipe are optional but, like many of the recipes in CRUMB, the virtuous elements need not be the additions of fruit, but patience, attention to the small things and generous helpings of pleasure.
Read On…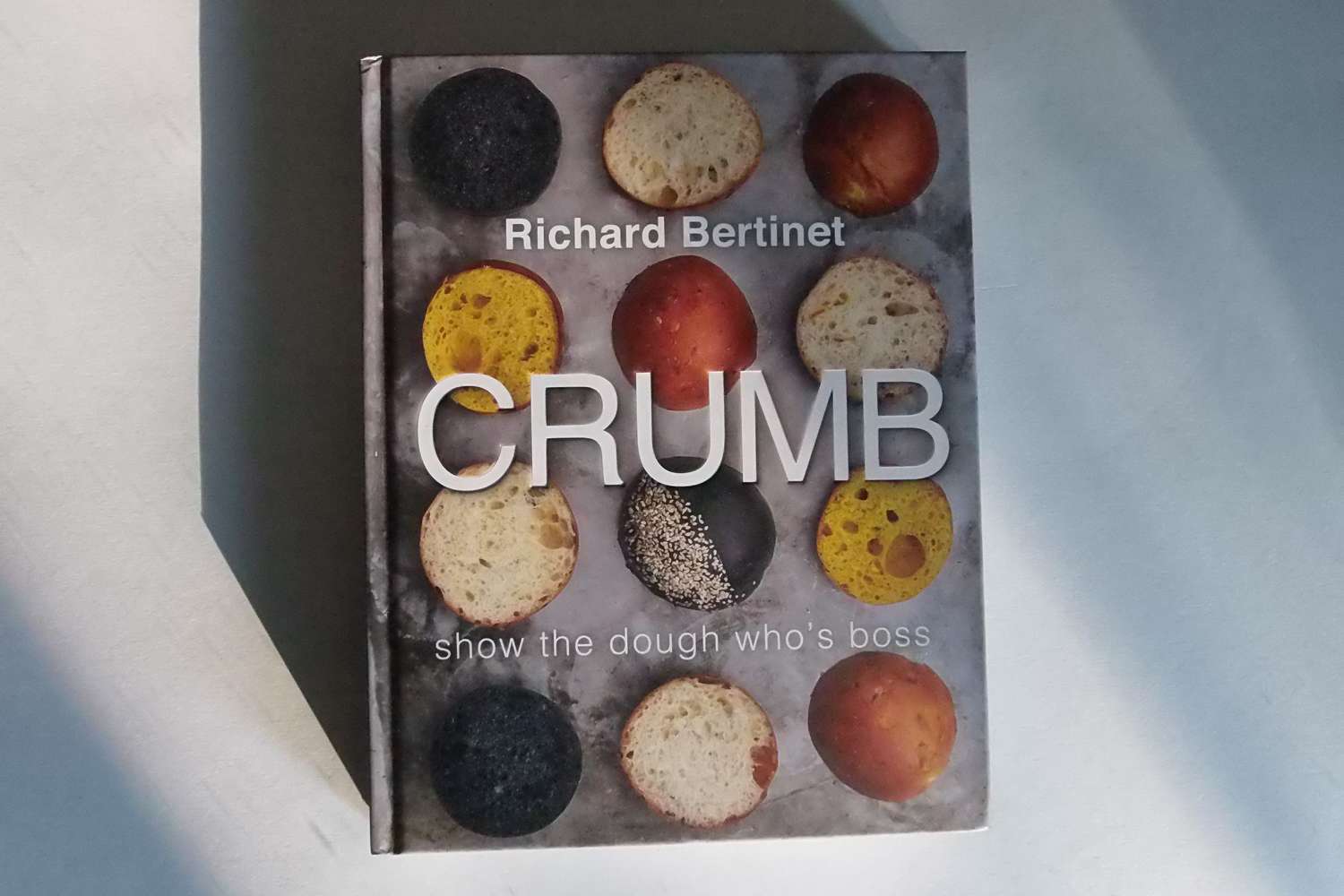 CRUMB by Richard Bertinet is published by Kyle Books and is available now in hardback priced at £25 www.kylebooks.com