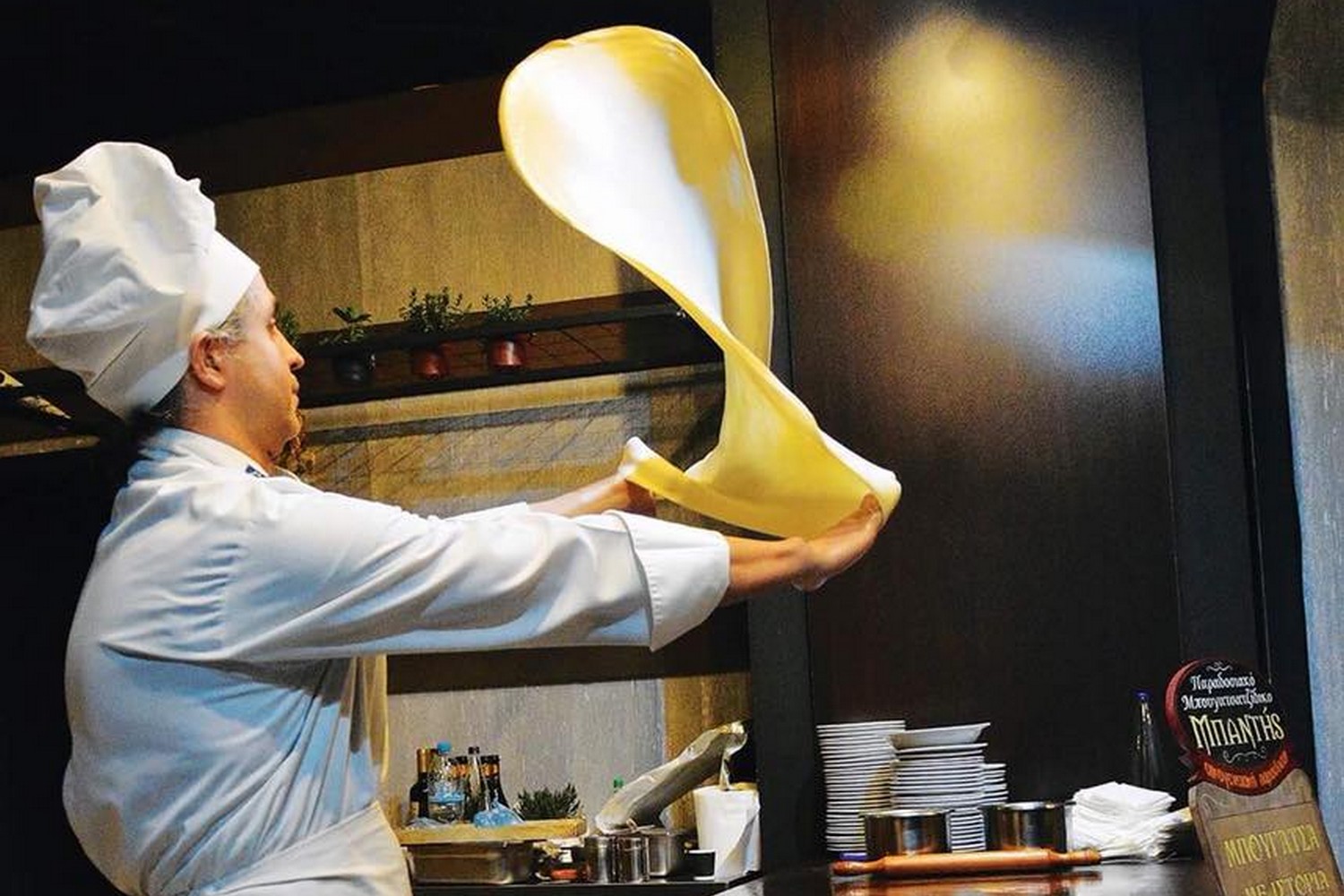 Guide books aren't always right, but when every blog and book sends you in the same direction there's comfort in the correlation and surely everyone can't be wrong. Such a place with universal acclaim is Bougatsa Bantis in the sugar-crazed Greek city of Thessaloniki. Bougatsa is the city's trademark pie, with layers of tracing paper-thin phyllo pastry enveloping any number of fillings. A breakfast vanilla custard bougatsa is like rocket fuel to start the day alongside a strong coffee, yet the meat-filled version is also considered a classic.
After opening in the 1960s, Bantis is now a second-generation family business, feted by food bloggers, TV chefs and a grateful Thessalonian public. Here Philippo Bandis discusses his life as a baker.
1) What was the earliest bake that you remember?
I think I was nine or 10 years old and I made a cheese pie with puff pastry that my father taught me how to make. I felt very proud because everybody ate it. I still bake it every day.
2) How did you learn to bake?
In a way I was born into my father's kitchen. Our store opened in 1969 and I was born in 1973. Every day I watched him and the other bakers that work with him doing pies, bougatsa and other pastries so learned everything from them. When I grew up I also went to a pastry school in Thessaloniki and also worked in Manchester, England with the scholarship that I won for being an excellent student.
I believe that a great success is my bougatsa with graviera, a very salty hard yellow cheese from Greece.
3) What do you feel you still have to learn?
I learn every day from the other bakers and pastry chefs that I work with, I learn every day from my students as I am now a teacher for phyllo pastry, dough and bougatsa. I feel I will never stop learning, I still have many things to learn.
4) What or who is the biggest inspiration on your baking life?
The first man that inspired me was my grandfather Philippos, even though I never met him. He came to Greece as a refugee from Cappadocia and brought with him the art of making bougatsa. After him my father, who opened our store in 1969, and last is my teacher, one of the best bakers in Greece and the founder of Hellenic Pastry Chefs Club, Mr Nikos Tsiflikiotis,
5) If you could only bake one thing for the rest of your life, what would it be?
I think it would be plain bougatsa, only with phyllo without any filling inside, with butter. That it's my favourite. This is the origin of bougatsa with many centuries of history behind it and almost no one bakes it anymore.
6) If you could only eat one thing made by another baker for the rest of your life, what would it be?
I would be a perfect pie with spinach and other vegetables made by a great baker and friend Argiris Kouloglou.
7) What's the best baking advice you've ever received?
"You may have all the recipes of the world, the best ingredients and the best tools but if you don't put love and passion inside your bake will never be better than the others" My teacher Mr Nikos Tsiflikiotis after I graduated and I was training at his bakery.
8) What has been your biggest baking failure and what counts as your greatest success?
A big baking failure was when I made many, many pies for a catering job and I didn't put salt inside the dough. I believe that a great success is my bougatsa with graviera, a very salty hard yellow cheese from Greece, figs and sweet red wine that I presented for the first time to the World Chefs Congress 2016
9) Where's the perfect place to bake?
The best place to bake, for me is my own kitchen. Even if it's small and old, without the best tools and modern equipment, it is still my own and I know everything in there, where to find it and how to cook in my old oven. My friends know where I am and come to eat at my bakery.
10) Sweet or savoury?
Savoury in the morning because I like it and I will not get hungry quickly after eating it and sweet at afternoon because I need sugar at that time.
11) Coffee or tea?
Coffee in the morning because only this perfect drink can wake me up at 5am. Different kinds of teas work for me at every other time, every day. It also depends of my mood and my health.
Bougatsa Bantis
Panagias Faneromenis 33, Thessaloniki 546 32, Greece