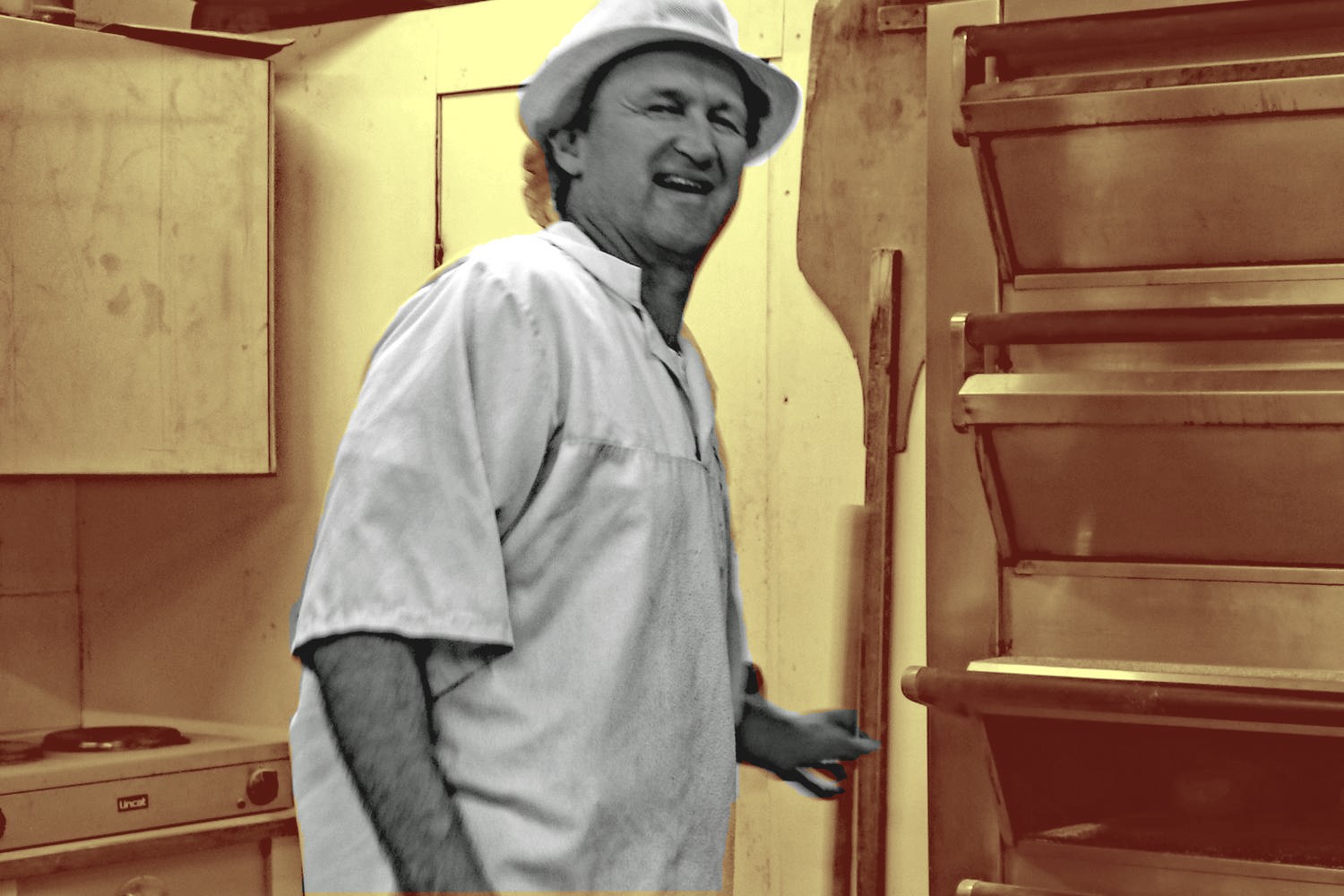 Founder of Northumberland's Bread and Roses Bakery, Andrew Smith's professional baking life has been one of sharing. The very notion of baking and breaking bread should be inherently sociable and communal; something Smith's approach to learning, business and, in turn, sharing his knowledge has held at its very heart. Three decades ago Smith and a fledgling co-operative gave baking a spin, leading to a life-long love of bread and recognition of the ideals inherent in a properly baked loaf. Those are ideals, from working with local flour mills to teaching the techniques and benefits of real bread baking to new bakers, which Smith maintains as the foundations of his personal craft.
In his 'A Baker's Life' interview Smith goes right back to the start, detours to the Greek islands and describes his favourite tea pot.
What was the earliest bake that you remember?
It must have been when we were setting up Red Herring Workers' Co-operative in the West End of Newcastle upon Tyne, in around 1987. We made bread using bio-dynamic North Pennine wheat, stoneground by the Watermill at Little Salkeld in Cumbria. Some of the bread was amazing, some of it didn't quite work out so well. The nature of what we were trying to achieve at the time, and still something we strive for at Bread and Roses!
How did you learn to bake?
First of all, empirically, as none of the recipes were actually written down! The brick oven we used was coke-fired with no thermometer probe built into the structure and in days long before laser probes. After that I worked my way up in different bakeries for 10 years and then went to Thomas Danby College in Leeds to achieve qualified status.
What do you feel you still have to learn?
The day I stop learning anything is the time to retire. If I'm not learning, I don't see the point of still doing it. And I'm not expecting to be retiring anytime soon.
What or who is the biggest inspiration on your baking life?
Yes, undoubtedly people, although far too many to name along what is now a 32-year career. They will know who they are though and I humbly thank them all. If it's just one person, then it's Joe Davidson who was my Programme Leader for my bakery course at Leeds Thomas Danby, and then my mentor when I followed up with the PGCE teaching qualification.
If you could only bake one thing for the rest of your life, what would it be?
Probably Miche, but a sourdough loaf using rye at about 40% would run that very close.
The best advice I get comes from my wife, Alison. But, I don't think she's ever given me any baking advice!
If you could only eat one thing made by another baker for the rest of your life, what would it be?
I remember once talking about this with Andrew Whitley (founder of Bread Matters and Scotland The Bread) and I suggested I'd go for a 100% Wholemeal tinned loaf. I still like this style of bread a lot, so long as it's made properly, but it wouldn't be 'the one'. My current favourite is our 40% rye with caraway. That may well change anytime.
What's the best baking advice you've ever received?
Talk about being put on the spot! I honestly don't know. The best advice I get comes from my wife, Alison. But, I don't think she's ever given me any baking advice!
What has been your biggest baking failure and what counts as your greatest success?
I've yet to make a proper panettone using only natural leaven. My one attempt failed when the dough secondo split – It made a lovely fruit cake! Greatest success is probably graduating from college with distinction in all 12 subject areas of the BTEC Baking Certificate.
Where's the perfect place to bake?
Alison owns an old house in a traditional village on Crete. Our hearts are there already and we yearn to live there in years to come. We have stayed in three different properties on the island over the last 10 years, which had a wood-fired oven as part of the outside cooking arrangements. I have made bread on all of them joyfully.
What is the one piece of equipment that you couldn't bake without?
A proper bread oven. Either a Chandley-style deck oven or a wood-fired, brick built one, I don't mind!
What book has been the biggest influence on you or that you most recommend to others?
Jeffrey Hamelman's work "Bread: A Baker's Book of Techniques and Recipes". He's the 76th Certified Master Baker in the US, and there are still less than 200 even today. He captained the Baking Team USA in the Coupe du Monde du Boulangerie, which came from nowhere to almost win it in 1996, and I believe he was adviser to the team at the subsequent Coupe which Team USA won. His writing is clear, he tells great stories, his techniques are exemplary, and his recipes are absolutely bang-on. Every single one of them.
Sweet or savoury?
Savoury. I prefer to take a cheese plate than a pudding. Sugar hurts my teeth anyway, but I just don't have much of a sweet tooth.
Coffee or tea?
I need to have both, but I'm really fussy about how they are made. Morning coffees come from a stove-top machine, served strong and black, longue, but definitely not Americano boat-style. Tea is very weak Jasmine, drunk in a huge pot made by the Highland Stoneware Company with a hand-painted puffin on it!
Andrew Smith has been announced as one of twenty one Real Bread Ambassadors by Sustain's Real Bread Campaign.