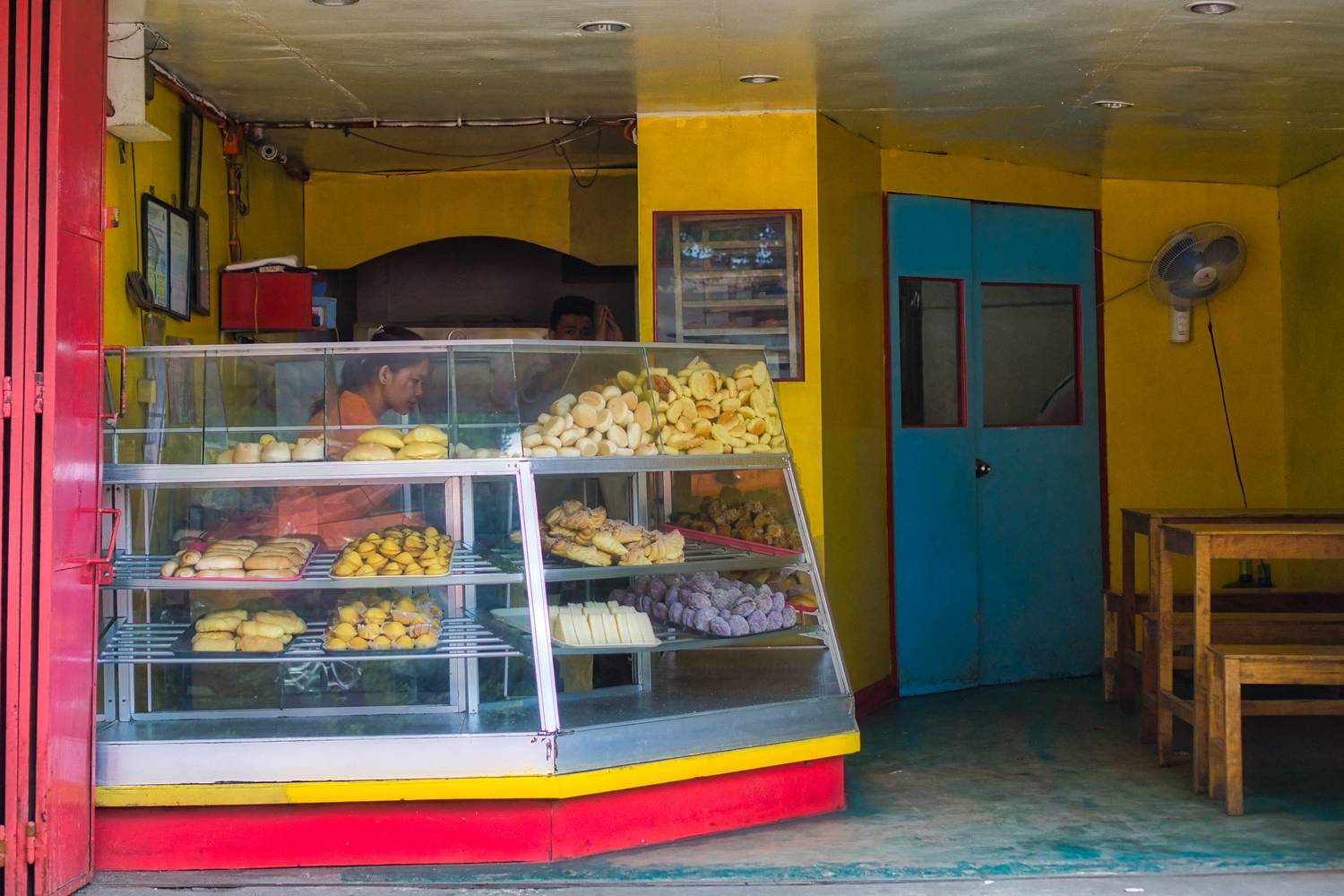 Founded by second-generation Filipino brothers Nigel and David Motley, the Kapihan coffee house in London (note: not the business pictured above) makes best use of European techniques combined with the Filipino 'twisted' flavours. An archipelago in the western Pacific Ocean, the Republic of the Philippines is a product of its geography and history, as a trading post, a location of strategic military importance, a passing point for global trade and home to successive colonialist rulers until 1945. As a result, its bread, cakes and confectionery present a fascinating world to explore.
Rice is the staple grain in the Philippines, with the grain standing alone at mealtimes and forming an essential ingredient in baking. Wheat and butter are costly to import, so native ingredients like rice, mangoes, yams and other pulses remain central to culinary culture. Bread itself doesn't play as significant a role as a meal in itself or an accompaniment, with just small portions more likely to be taken throughout the day, usually with a good coffee. With an outrageous sweet tooth, Filipinos enjoy merienda – in much the same way as the Swedes might 'fika' or the Germans take 'Kaffee und Kuchen' – where time is allowed to simply sit and share something small and tasty with a drink.
Such simple combinations are what Kapihan brings to London, setting down traditional and contemporary takes on a largely unknown cuisine. Using naturally-leavened doughs and natural, fresh, seasonal ingredients of the highest quality, the brothers only ever import products to ensure an authentic taste of the Philippines such as cacao from Malagos and coconut blossom sugar, mangostein, guava and macapuno from Kablon Farms, South Cotobato.
As they celebrate the recent opening of their café and roastery in Battersea Park, the brothers give readers of Dough Culture their rough guide to Filipino baking's greatest hits.
Pan De Sal or 'Bread of Salt'
Nigel: "Pan De Sal is the everyday bread that everyone can afford. Although there remains a wide wealth divide in the Philippines, everyone from rich to poor can afford Pan de Sal. It should be fresh, affordable and delicious. Despite salt being in the name, the bread is slightly sweet. The Filipino palate has an affinity for sweet things; we even enjoy spaghetti with a sweet sauce, and Pan de Sal is eaten throughout the day, both for breakfast and merienda, our snack time. A traditional Pan de Sal is a rough, small oval shape and is baked in a Pugon or hearth oven. The traditional dough usually contains quite a bit of fat, which leads to it not rising much. Butter is expensive and not widely available in the Philippines, so bakers mainly use margarine or in some cases rendered pork or duck fat.
"This bread is coated in small bread crumbs for texture and, when fresh out the oven, should have a crispy exterior and fluffy interior. Pan De Sal is best enjoyed as a classic combination with coffee in the mornings. It's really versatile bread, where you can add jams – usually mango, guava or a sweet gherkin mayo called lady's choice – and Eden cheese. But a really good Pan De Sal should have the texture and flavour to enjoy in its own right.
"Kapihan's version of the Pan De Sal uses sourdough with mallungay (Moringa), which gives a feint bitterness to counteract the salt and sweet. We are also working on a cheese version and a home-style corned beef Pan De Sal, each to be served warm, fresh from the oven."
Ensaymada
David: "I always find it hard to describe Ensaymada. Lots of countries in Latin and Central America have their own versions, with the Puerto Rican version being more bread like. The Filipino Ensaymada is between a very eggy brioches, which borders on being a cake. The Ensaymada we grew up eating was extremely soft and moist, with a vibrant Bart Simpson-yellow colour from all of the egg yolks used in the recipe, always iconically wrapped in saran wrap. The original version is dabbed with butter or buttercream, and then topped with sugar and a salty grated cheese on top. This gives you a balance of a sweet and salty combo. This is more of a treat and usually eaten at merienda. Lots of bakeries have their own version; some stuffed or topped with Ube (purple yam). Our version of Ensaymada is true to what we know, having a really eggy texture, topped with nutty sweet cheese blend alongside our Ube Macapuno version."
Cassava Cake
Nigel: "Everyone that has been amongst Filipinos at a party or celebration would know about this cake. It is made from Cassava, also known as Manioc. In the West Indies and Africa it is enjoyed as a staple, savoury carbohydrate, but we turn it into a sweet dessert. Our version is made with freshly grated Cassava – we never use frozen – which allows us to add texture. We use premium coconut milk, homemade condensed and evaporated milk together with young coconut strips and a secret ingredient. Cassava Cake is great served hot or cold, it doesn't matter at all."
Yema Cake
David: "This is an example of how American baking has influenced the things that Filipino bakers like to bake and we all like to eat. There are quite a few recipes that we can trace back, in particular to the time during WW2, with the introduction of milk powder. Yema Cake is something I can describe as Dulce De Leche spread over a really light as a feather chiffon sponge. The Yema is a bright, egg-yolk rich custard confectionery made with condensed milk and used to sandwich the two layers of buttery chiffon sponge, before it is glazed all over with yet another layer of sweet Yema or more intricately decorated with piping if time allows."
Hopia
Nigel: "Filipino cuisine has evolved, and continues to evolve, but taking a little from other cultures and passing trends. There is significant Chinese influence when it comes to working with sweet and savoury dough products. Hopia is a traditionally Chinese pastry, using a thin, flaky pastry baked with pork fat. One of my absolute favourites, the three traditional ones are plain, sweet onion or Mungo (mung bean). It is prepared in either in a square or circle and are delicious for merienda or a morning snack. At Kapihan we will be serving a version of classic Hopia using Iberico Pork lard with a Sambal Onion Marmalade, traditional plain version and also an Ube version too."
Kapihan
13A Parkgate Rd, Battersea, London SW11 4NL
www.instagram.com/k_a_p_i_h_a_n