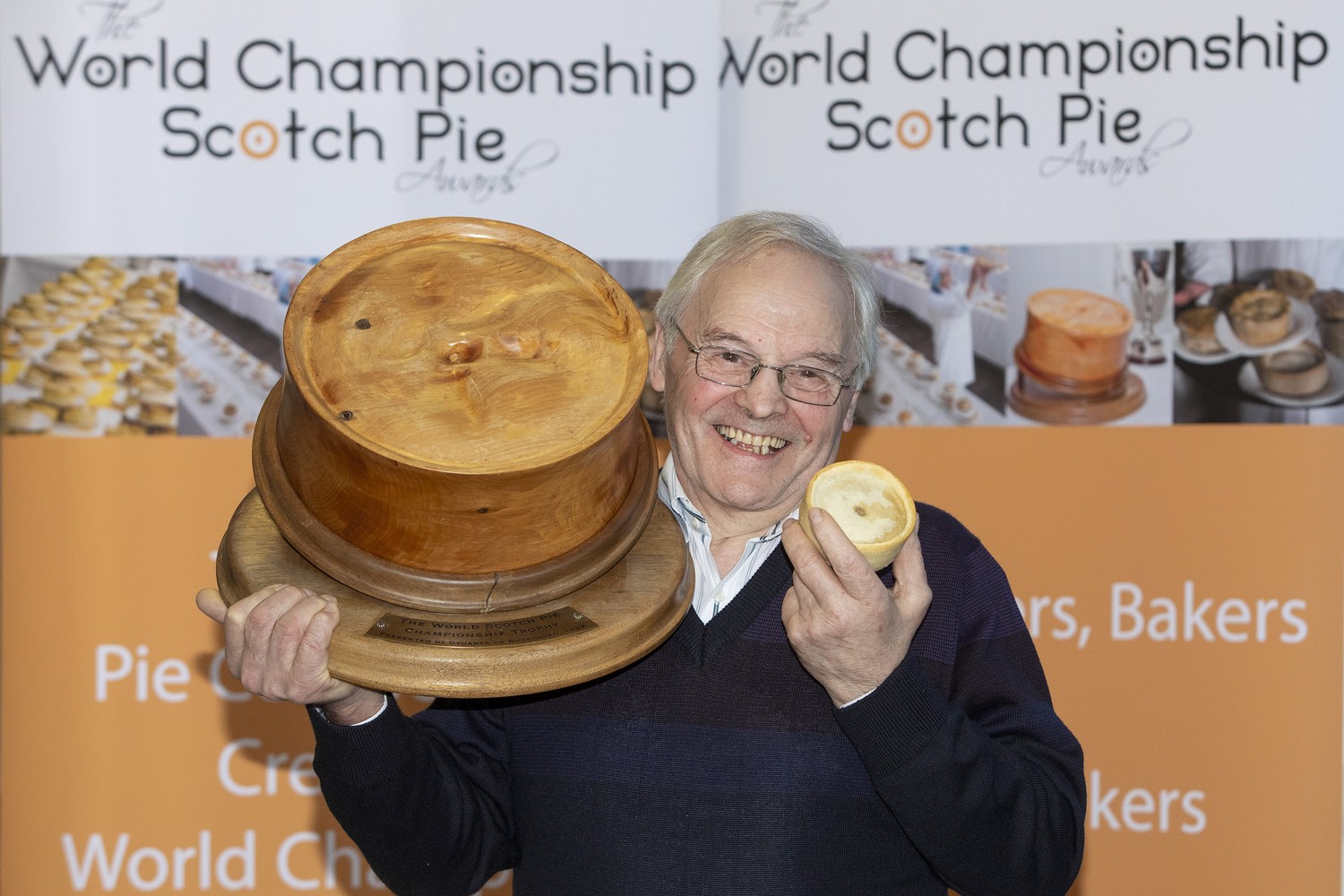 Just a month after opening their first shop, having perfected their pies as a wholesaler and regular market trader, father and son bakers, Kerr and Nick Little have been named as undisputed, world champions of baking the classic Scotch Pie. The Little Bakery, renowned for their savoury pies throughout Dumfries, South West Scotland, including those available from their new outlet in Kirkcudbright, is a family business that now sits at the top of a pile of more than eighty competition hopefuls.
In the competition's twentieth year, established and run by Scottish Bakers, over 450 products arrived to vie for the attentions of fifty industry professionals stepping up as judges. Celebrating a selection of truly traditional bakes, looking for only the most exceptional examples, the full range of categories included sausage rolls, bridies, savouries and apple pies, yet all eyes and taste buds were fixed to the top prize.
Having collected the award for the world's finest Scotch Pie, Kerr Little said: "We won, I am speechless! To have been given the ultimate accolade today and to be able to call our pie the World Champion as judged by a panel of experts is just excellent. This award is proof of what I have known for a long time; that The Little Bakery team is the best in the land. I am really looking forward to the year ahead and to selling more of our champion pies than ever."
A market stall of Scotch Pies. Photo: Ninian Reid
An understated pie that has been a mainstay of traditional pie and many fish and chip shops, the Scotch Pie has traditionally been made of peppery mutton encased in a thin, hot water crust pastry shell with a recognisably high, straight-sided crust. The rules stipulated by Scottish Bakers for the competition entrants are clear, with the website stating that:
Scotch Pie must comprise of a machine raised, automatic or manual, round shell of pie pastry. The pie will not be presented in an aluminium foil.
Ingredients for the filling will be minced beef, lamb, mutton or a combination with the addition of seasoning, rusk, stock or water. A cereal or soya binder may be added, but not vegetables.
The pie will have a pastry lid produced from pie pastry.
Celebrating another year of strong competition entrants and recognising the hard work and determination of the winners, Ronnie Miles, President of Scottish Bakers, said: "Once again we have brought together the best pies and baked goods in the land and today we can really celebrate the achievement of our hard working butchers and bakers. My heartfelt congratulations go to our World Champion, and indeed everyone today taking away a prize, they are all winners in my book."
Scottish Bakers was established in 1891 and since then have represented and promoted the interests of the bakery trade in Scotland.