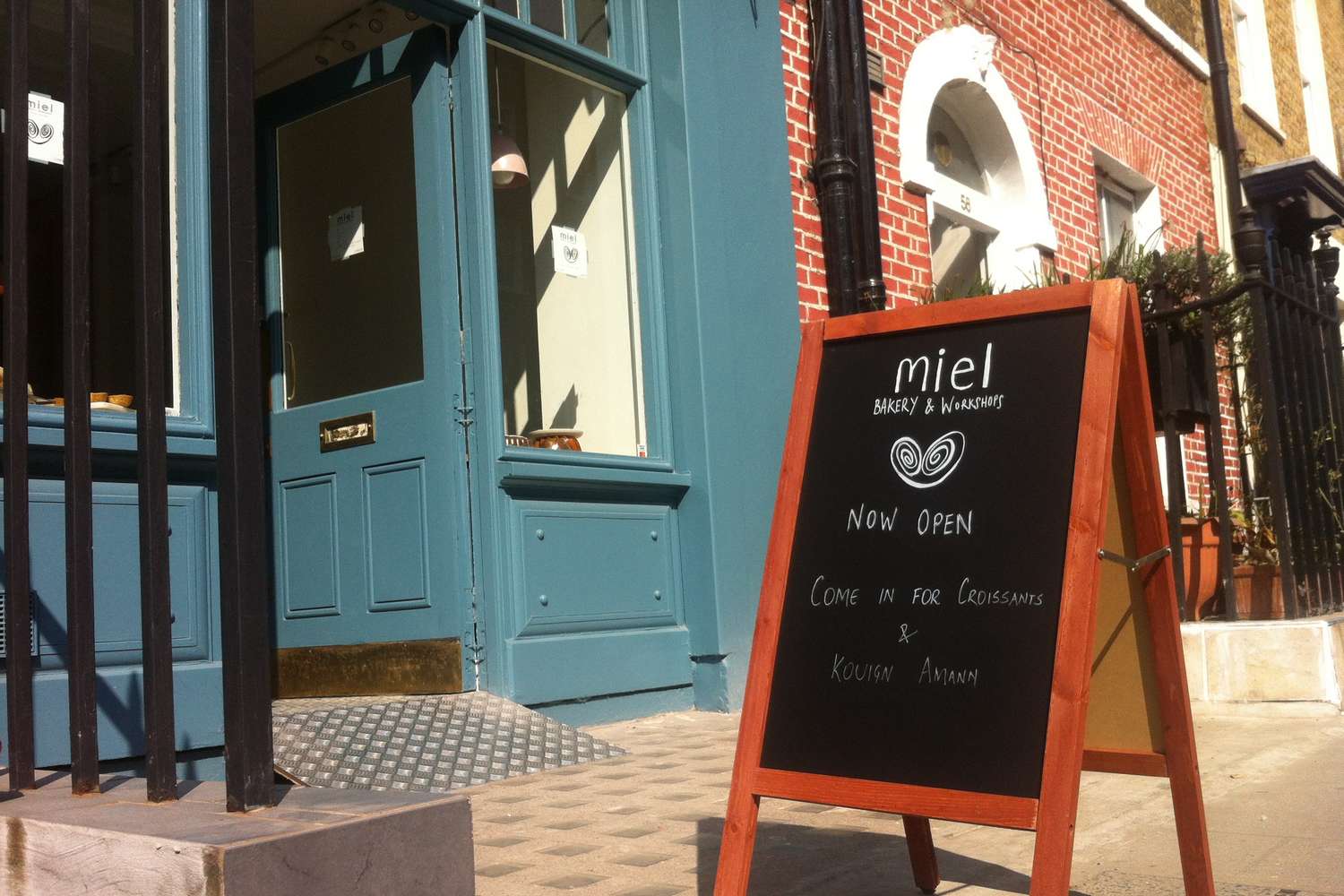 A beautifully minimalist interior that skips Scandi cliché to evoke an airy French sophistication, an open bakery workspace that's as inconspicuous as it is glaringly obvious and plates upon plates of finely crafted Kouign-amann, tarts filled with chocolate and fruits and just-from-the-oven canelés de Bordeaux. Is this heaven, or is it the newly opened Miel Bakery in central London?
Pinch yourself on entering to be sure you're not dreaming, Miel is a new beginning for classically-trained chef, Shaheen Peerbhai who returned from training at Le Cordon Bleu Paris and Alain Ducasse Education to establish a bakehouse, shop front, teaching space and community in the heart of the British capital. On busy Warren Street, metres from Euston Station, Miel opened at the end of March 2019, making itself known with a simple sandwich board on the pavement and the smell of buttery croissants drifting down the street.
"I wanted to open the kind of bakery to bake the kind of things I want to bake," says Peerbhai "I lived in Paris for three years and there was a pastry shop round the corner. I was always so spoilt for lovely things and I've found it very hard to come by that here. I always thought that one day I'll get a bakery of my own and bake all day long and here I am!"
Finding Peerbhai in Miel isn't that difficult. Baking all day long as intended, she works away behind the bakery counter at the back of the shop, while a long table stretches the length of the space laden with the most perfect looking, and tasting, morsels of pastry, cakes and biscuits as bowls of sourdough bread and trays of sandwiches laze around waiting to be picked up. It's a dream for customers as well as the owner.
"It's taken a long time for the dream to become real. The reality of opening a bakery is that you spend a long time looking for a place and then you find somewhere you like and then comes the process of bringing it all to life. So, it took perhaps around six months of searching and then six months of negotiations and refurbishment."
A distinctive, yet classic, vintage blue exterior, clean white walls with wooden finishes inside finessed by a wall-to-wall tiled floor, Miel is undoubtedly beautiful. In part, Paris can take some of the credit for its influence on the way it looks, feels and tastes. Yet, for every spoonful of French authenticity, there's an equal amount of love for London and an honourable desire to make Miel a part of the city it calls home.
"As far as ingredients go, we have French Valrhona chocolate, butter than comes from Poitou Charentes and flour which has come from Normandy, so all of the ingredients are the best that we can get our hands on, " explains Peerbhai. "It's an authentic experience of Parisian baking in London, but at the same time it's also just a London experience. It's baked here in London on Warren Street, the street outside smells lovely and the dairy and the eggs are local, so it's still very much of this time and this place."
Miel Bakery
57 Warren Street
London W1T 5NR
mielbakery.co.uk