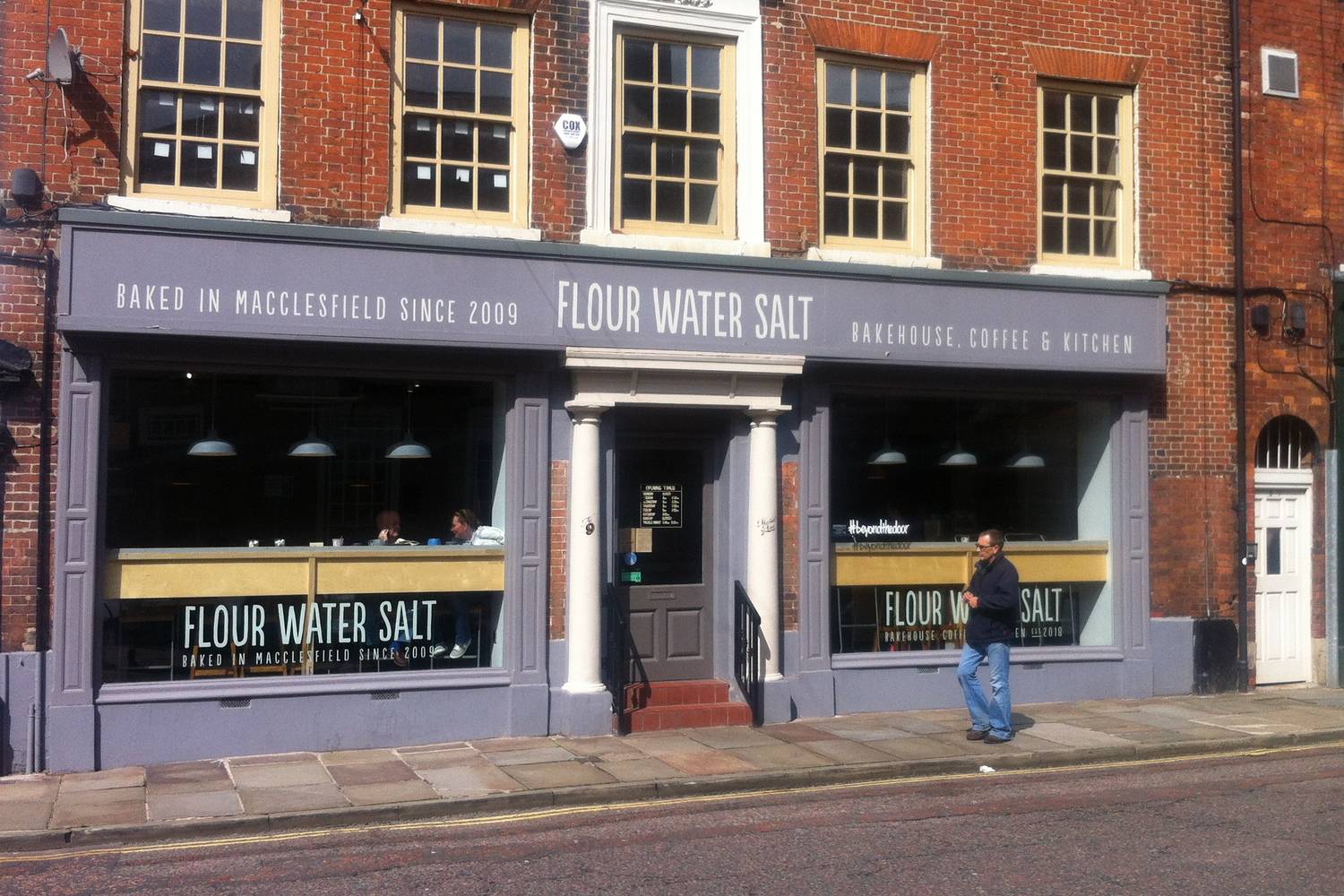 Macclesfield, a former silk producing town that lies on the mainline between Manchester and London and on the lip of lush farmland, won't look or feel the same as it does today in ten years' time. Macclesfield is also a place that had been left to seethe on the edge of Cheshire since the decline of its main industry, with its poverty as visible as its riches. One of those riches is, undoubtedly, it's renowned bakery, Flour Water Salt.
As a catalyst and indicator of change, a remarkable, principled, independent and high quality bakery is up there with craft ale bars, and Macclesfield isn't short of those either. Just 20 miles from Manchester, it's in the sights of developers, 'hipsters' and young families as well as those independent business owners who find a local population ready to try anything new and, perhaps, finding property cheaper than the metropolis. Flour Water Salt predates most of this, established in 2009 by husband and wife team, Paul and Eva Robinshaw.
Their presence as a strictly sourdough bread bakery reverberated beyond the town, influencing and setting standards for what was to come later in the bigger cities of the North West of England. First came the old Citroen van at market events, then a hangar-style bakery-with-counter buried amongst Macclesfield side streets. Then, in early 2018, their beautiful, Georgian, double-fronted café/bakery opened right on Market Square in the town centre.
It's a busy place and rightly so. On a sunny morning (these should be taken with both hands as a gift on the edge of the Peak District) the light pours into the café, casting beams across a counter that's heavy with pastries, cakes and the quick fire passing of orders, payment cards and coffees. Often, a bakery can promise so much and, for multiple reasons, deliver so much less than either their reputation or false expectation, but this isn't that. Flour Water Salt is the definition of abundance.
Behind a sheet of glass, pastries of all kinds sit waiting. Perfect classics, croissants, almond croissants, pain au chocolat and cinnamon buns all wait patiently to be picked up. Things go a step further with fresh fruit-jewelled tarts and nut-laden chocolate brownies and myriad other options, making choosing just one or two items a happily torturous process. What do you leave behind?
Testing two classics, the pain au chocolat was everything you'd expect and desire it to be. Sat up high in the window as, of course, there were no tables to be had (it's a place to gather and rest for a while – the window counter will do), the pastry burst and flaked in a display of perfectly light lamination. No complaints on the quality of the chocolate filling, there's rarely fault to be found with chocolate and a business like Flour Water Salt will be on point with its ingredient sourcing.
To cinnamon bun or cardamom bun? Throwing a cocoa bun into the fray, the decision becomes more complicated, but the cinnamon version – labelled exotically and quite correctly as Kannelbullar – won out and, true to form, was as good as any to be found in Stockholm or Gothenburg. Baked to a conker brown beneath a syrupy wash, the crystal sugar topping crowned a satisfying, knotted clump of dough, moist with its cargo of cinnamon, sugar and butter. On its day, there's nothing better and this was one of those days.
The staff here buzz around from customer to customer and table to table; hauling heavy sourdough loaves off the shelves and delivering perfectly made coffee, sourced from independent roasteries. Those sourdoughs, including Flour Water Salt's signature, Wild Nancy, need little introduction for waiting locals, but for anyone planning an occasional visit it would be folly to leave without taking some of the action home. It does everything a great sourdough should, being perfectly sliceable for sandwiches on day 1 and living happily to be toasted for days after, not losing a touch of its mild sour and deep cereal flavours.
Nobody can doubt that perfection is so difficult to attain and the Robinshaws and their staff, past and present, will bear the scars of cold and rainy days hanging out of their van selling loaves and tough days between the bank, property agents and shop fitters to get their new home right. But, boy was it worth it!
Flour Water Salt
9 Market Place, Macclesfield SK10 1EB
www.flourwatersalt.co.uk